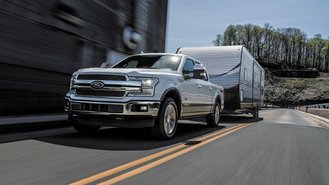 Potential Ford F-150 customers will soon have a new powertrain option in the form of a 3.0-liter turbodiesel engine. This is the first diesel engine in the truck's 70-year history.
The new V6 makes 250 horsepower and 440 pound-feet of torque. The engine pairs with Ford's 10-speed automatic transmission and will be available with either two- or four-wheel drive.
According to Ford, the diesel F-150 is capable of towing up to 11,400 pounds and hauling up to 2,020 pounds – those are remarkable figures for a light-duty pickup truck. Ford estimates the truck to return up to an EPA-rated 30 miles per gallon on the highway. With a 26-gallon fuel tank, the F-150 could have a range of 780 miles on a single tank of gas.
While Ford is branding the engine as a Power Stroke engine, the new V6 actually comes from the automaker's UK engine plant responsible for the diesel engines used by Jaguar Land Rover. While the engines share several similarities such as output and displacement, Ford says there are key design differences.
Ford expects only about five percent of F-150 buyers to opt for the diesel engine with about 80 percent of those buyers using the truck's towing capability. The diesel 2018 Ford F-150 goes on sale this spring, requiring a $4,000 premium over gas-powered models. This isn't the last powertrain Ford is bringing to the F-150 ­– a hybrid powertrain is also coming.