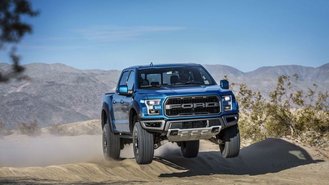 The Ford Raptor is one of the best off-roading vehicles that money can buy. Since Ford unveiled the vehicle back in 2010, it's sat in its own segment, virtually going unchallenged. For the 2019 model year, the Raptor is even better, making it even more of unstoppable beast.
The largest and most notable change is the addition of electronically-controlled Fox Racing shocks with Live Valve that can adapt to changing road conditions. The shock absorbers work in tandem with sensors that are located in the suspension and body to constantly adjust the damping force at all four wheels. Since off roading at high speeds is one of the major selling points for the Raptor, and Ford always shows the pickup flying through the air, the pickup's sensors can now detect whether the vehicle is airborne and adjust the suspension to make the landing as smooth as possible.
The new setup should make the Raptor even more capable on rough terrain, while giving the truck a more refined character on the road. Ford, though, hasn't forgotten about drivers that enjoy rock crawling, as the automaker fitted Trail Control, a cruise control system for when the going gets tough, onto the pickup.
Trail Control, as its name implies, automatically adjusts the amount of power that's being routed to each wheel and braking inputs, as well. This allows the driver to focus on steering, while the system handles acceleration and deceleration. The system is only available from speeds between one to 20 miles per hour.
Other changes include new Recaro seats that have a blue insert and contrast blue stitching, which were inspired by the Ford GT supercar. There's a new carbon-fiber trim package on the inside, as well. New exterior colors have been added to the Raptor, including Ford Performance Blue, Agate Black, and Velocity Blue.
The Raptor's twin-turbocharged 3.5-liter V6 goes untouched, putting out a potent 450 horsepower and 510 pound-feet of torque. The 10-speed automatic transmission has been retuned, though, to provide smoother shifts.
With all of the changes, we expect to see the Raptor's base price of $51,510 (including destination) increase. Production of the 2019 Raptor will begin toward the end of 2018.