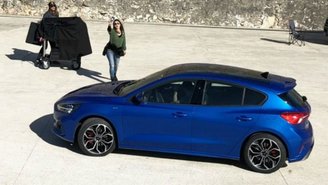 Sedans and hatches aren't selling well when compared to crossovers and SUVs, but that doesn't mean automakers are giving up on the smaller forms of transportation. Ford is still planning a fourth generation of its Focus compact hatch and sedan, which Vezess, a Hungarian website, captured completely uncovered. Spy photos of the next-gen Focus show test mules with very little to no camouflage.
The design appears more upscale than the outgoing generation with sleek styling elements such as thin-slit headlights and an accentuated body line down the side. Inside, expect a roomier cabin with all-new controls and layout.
Information on the powertrains remain unknown, however, Focus line could go all turbocharger. A Focus ST hatch should debut shortly after the standard Focus with an RS model following later. The ST should use a 2.0-liter turbocharged inline-four, just like today's model.
Ford could unveil the Focus as soon as next month, possibly introducing the car at the 2018 Geneva Motor Show with a US debut at the 2018 New York Auto Show. The next-gen Focus should hit the U.S. as a 2019 model year offering. Ford is planning to build a wagon version, but not for the US.