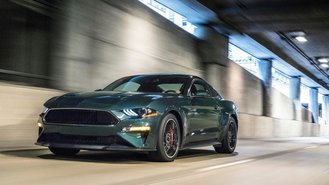 When the 2019 Ford Mustang Bullitt goes on sale later this summer, it will command a premium price while offering improved performance. However, the 2019 Bullitt Mustang is more than a badge and special paint, adding both the Premium Plus and GT Performance packages.
The 2019 Bullitt gets a noticeable increase in power. The 5.0-liter V8 engine makes 460 horsepower, 20 more than the standard GT. Torque remains unchanged, though, at 420 pound-feet. The increase in power comes from several unique parts that include an intake manifold from the Mustang Shelby GT350, a performance open air intake, unique tuning, and a larger 87-millimeter throttle body. Top speed is up eight miles per hour over the standard GT to 163.
The Bullitt also features an active quad-tip exhaust with black exhaust pipes, 19-inch aluminum wheels (in the Bullitt's traditional Torq-Thrust design, and red-painted Brembo brakes. Only two color choices are available: Shadow Black and Dark Highland Green (although you really should only order the Dark Highland Green – it's what Steve McQueen would have wanted).
There are chrome exterior accents on the black grille and front windows. The only surface feature that signifies the limited-edition Bullitt is a faux rear-center gas cap badge. Inside, green accent stitching is on the dashboard, seats, door panels, and center console.
When the 2019 Ford Mustang Bullitt goes on sale later this summer, it will cost $47,495, which includes the $900 destination and delivery charge.