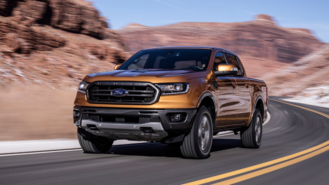 The mid-size pickup truck segment is now packed with various options that range from the tried-and-true Nissan Frontier to the still relatively fresh Chevrolet Colorado and GMC Canyon. Ford is entering the hotly contested segment with the Ranger, which we now know will feature best-in-class fuel economy.

When equipped with the standard turbocharged 2.3-liter four-cylinder engine, the pickup will have an EPA-estimated fuel economy rating of 21 mpg in the city, 26 mpg on the highway, and 23 mpg combined with rear-wheel drive.
Those figures beat the Toyota Tacoma, which can get up to 21 mpg combined, as well as the gas-powered Colorado, Canyon, and Honda Ridgeline that are rated to get 22 mpg combined. It's also better than the Nissan Frontier, which has an EPA rating of 21 mpg. Going with one of the four-wheel-drive Rangers doesn't have a dramatic impact on fuel economy, as those models are rated at 20 mpg city/24 mpg hwy/22 mpg combined.

In addition to being one of the more fuel-efficient mid-size pickup trucks, the Ranger has one of the most powerful base engines with a turbocharged 2.3-liter four-cylinder that makes 270 hp and 310 lb-ft of torque. The Colorado and Canyon are equipped with 200-horsepower 2.5-liter four-cylinder engines standard, while the Tacoma features a 159-hp 2.7-liter four-cylinder base engine.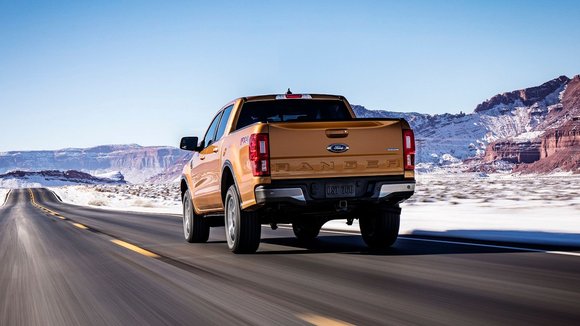 As The Detroit Free Press points out, the Tacoma continues to lead the pack for mid-size pickup trucks in the U.S. with roughly 46.1 percent of sales in the first eight months of this year. The Colorado followed behind, while the Frontier, which hasn't been redesigned in roughly 14 years, came in third. GMC's Canyon accounted for 6.5 percent of sales, with the Ridgeline coming in last, as Honda's pickup accounted for just 5.9 percent of sales.

Besides having best-in-class fuel economy with a gas engine, Ford is also claiming that the Ranger has best-in-class towing and payload capacity, as it's rated to tow up to 7,500 pounds and can hold 1,860 pounds in its bed.

Whether the Ranger has the goods to take on the popular Tacoma remains to be seen, but Ford's pickup sure is putting up some impressive numbers.