Ford has been coy about details on the 2019 Ranger, but when the automaker announced the resurrection of the mid-size pickup truck, it stated that the vehicle would only be available with a 2.3-liter EcoBoost four-cylinder engine. While we knew what kind of motor the Ranger would have, we didn't know how much power it would make. Now, Ford's released some more details on the Ranger's engine, and is also claiming best-in-class payload, torque, and towing capacity.
The turbocharged inline-four in the 2019 Ford Ranger will produce 270 horsepower and 310 pound-feet of torque when the pickup officially goes on sale. The engine's torque figure is what's really impressive, as it bests the GMC Canyon, Chevrolet Colorado, Toyota Tacoma, and Nissan Frontier, which can all be fitted with a V6 engine.
In addition to revealing power figures for the Ranger, Ford also revealed that the truck would have a maximum payload capacity of 1,860 pounds. That's better than the other mid-size offerings, as the Tacoma, when properly equipped, was the previous best-in-class offering with the ability to carry 1,620 pounds in its bed.
So far, so good, but there's more good news for Ford fans that waited this long to see a new mid-size offering in the brand's lineup. When the boxes for the tow package and trailer brake controller are ticked, the Ranger will be able to tow up to 7,500 pounds. Once again, that bests any other gasoline-powered mid-size offering on the market. The Canyon and Colorado are the closest to the Ranger's figures, with a towing capacity of 7,000 pounds.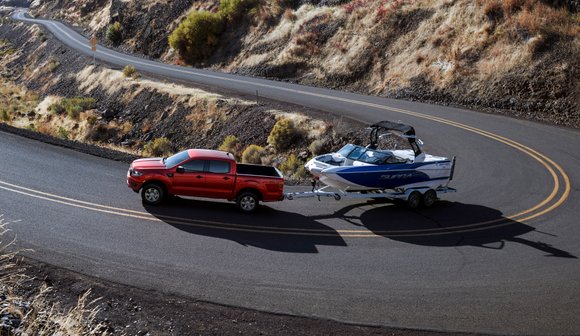 There is a caveat to Ford's claim of the Ranger having best-in-class towing capacity, though. Both the Canyon and Colorado are offered with diesel engines that can pull more cargo than the Ranger. When equipped with the 2.8-liter diesel inline-four engine, both the Canyon and Colorado can tow up to 7,700 pounds.
Pricing for the Ranger starts at $25,395, which includes the $1,095 destination fee. That figure is competitive for the segment, making Ford's latest offering an attractive option. Production for the mid-size pickup is expected to start later this year.