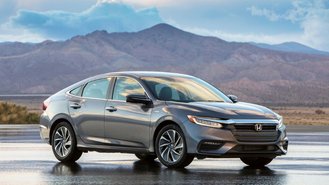 When the 2019 Honda Insight made its debut at the New York Auto Show this March, the thing that shocked us the most was its estimated 55 miles per gallon rating in the city. Now that Honda is getting the Insight ready to go on sale, the automaker has released the vehicle's official EPA ratings and the hybrid continues to impress.
The Insight will be available in three trims when it goes on sale: LX, EX, and Touring. The LX and EX trims have the same fuel economy ratings 55 mpg city, 49 mpg highway, and 52 mpg combined, just like Honda promised a few months ago. The Touring trim isn't as fuel efficient as the others with a rating of 51/45/48 mpg (city/highway/combined).
With a rating of 55 mpg city, the Insight matches the Hyundai Ioniq and bests the Toyota Prius by one mpg. The Ioniq Blue and Prius Eco get better mpg in the city, though, at 57 and 58 mpg, respectively.
The 2019 Honda Insight utilizes a hybrid powertrain featuring a 1.5-liter inline-four engine and an electric propulsion motor. Total system output comes out to 151 horsepower and 197 pound-feet of torque, which is more ponies than the Prius and Ioniq.
Honda announced pricing for the Insight as well. The entry-level LX trim starts at $23,725, which includes the $895 destination charge. EX pricing begins at $24,995, while the Touring costs $28,985. The Insight will go on sale before the end of June.