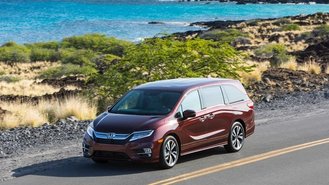 The Honda Odyssey, as the Japanese automaker proudly claims, has been the best-selling minivan in the country since 2010. The 2018 model year marked the beginning of the fifth generation of the vehicle and now, Honda has announced pricing for the 2019 model that builds on it.

The 2019 Odyssey starts at $31,065, including destination. That's a modest increase of $100 over last year's model. The increase in price, though, isn't limited to the base LX trim, but the EX trim, as well. The EX-L gets a $150 price hike, while the Touring trim sees its price tag go up by just $50. The range-topping Elite trim gets the largest price hike, as prices now start at $47,945 — $200 more than last year.

Despite the price increases throughout the entire lineup, the Odyssey continues on without any major changes. Opting for the EX-L trim and above now brings an extra USB port for the center console. Other than that, the 2018 and 2019 models are identical.

With the rise of seven-passenger SUVs, the minivan segment has cleared out. There are only three real competitors to the Odyssey, which include the Chrysler Pacifica, Toyota Sienna, and Kia Sedona. Those automakers haven't announced pricing for their 2019 models yet, but the new Odyssey is one of the more expensive minivans on the market.

The entry-level Sedona L has a starting price of $27,990, while the Pacifica L is priced at $28,090. The ancient Sienna is the only minivan that costs more than the Odyssey and is priced at $31,745 for the base Sienna L trim.