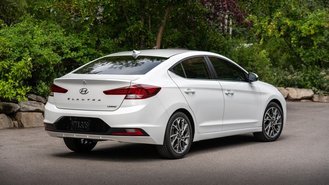 After unveiling the redesigned 2019 Hyundai Elantra last month, the South Korean automaker has come out with pricing for the compact sedan. Despite getting a new look, the SE trim starts at $17,985 (all prices include the $885 destination charge) with the six-speed manual transmission, which is only $150 more than last year. Adding an automatic transmission to the SE raises the price by $1,000 – just like last year.
The base SE trim is the only model in the new Elantra family that doesn't come with the new suite of safety features that includes things like forward collision-avoidance assist, lane keeping assist, and driver attention alert, which explains why pricing has only increased by $150. Going further up the ladder, the 2019 Elantra gets a larger price bump. The SEL trim now costs $20,285, which is $550 more than the 2018 model. The Elantra Value carries a price tag of $21,285, also an increase of $550 from last year's variant.
If fuel economy is what you're after, Hyundai still offers an Eco version of the Elantra that starts at $21,835, an increase of $400 over last year. Pricing for the Sport trim starts at $23,285 when equipped with the six-speed manual and $1,100 more for the seven-speed dual-clutch automatic transmission. These figures represent an increase of $600 over last year's model. Finally, the range-topping Elantra Limited starts at $23,485, which is $500 more than the 2018 model.
With more safety features as standard than before and a new look, the Elantra is well worth the extra money. While the Elantra is more expensive than before, it's still one of the more affordable compact sedans on the road. The new Elantra SE with the six-speed manual is more affordable than the Chevrolet Cruze, Mazda3, Toyota Corolla, Ford Focus, Kia Forte, and Honda Civic.