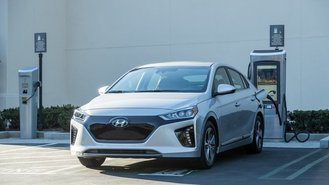 The Hyundai Ioniq lineup of vehicles are some of the most fuel-efficient compacts on the road today. The 2018 Hyundai Ioniq Blue hybrid finally displaced the Toyota Prius Eco, which was the long-time champion, as the king of the hill of fuel economy. To do that, the Ioniq Blue boasts an impressive EPA-rated 58 mpg combined. For the 2019 model year, the Ioniq family retains its fuel-economy ratings, but gets a major upgrade in safety and technology features.
The complete Ioniq range, which consists of the Ioniq Electric, Hybrid, and Plug-In Hybrid, all benefit from high beam assist and a driver attention alert system as part of their available safety features. Stepping up to the SEL trim in the Ioniq Hybrid brings automatic emergency braking with pedestrian detection as standard. The SEL trim also gets lane keeping assist and adaptive cruise control. For the previous model year, the features were part of the Tech Package that cost $1,000.
On the tech front, models equipped with navigation utilize a natural-language, server-based voice-recognition system. The navigation unit also uses a point of interest search database that was developed by Here, a mapping company that's headed by BMW, Audi, and Daimler. For Ioniq Plug-in Hybrid and Electric owners, the new POI-search system will point them toward the closest charging station, a helpful touch when you're short on juice.
This isn't the only thing Hyundai is doing for drivers behind the wheel of a 2019 Ioniq Plug-in Hybrid or Electric, though. The automaker has teamed up with ChargePoint to provide owners with welcome kits that include access cards to utilize the company's extensive charging network. As of this May, ChargePoint claims it has more than 49,000 charging locations and in excess of 767 Express DC fast spots across the nation.
All Ioniq models come with Hyundai's Blue Link app suite for three years. There's nothing interesting or surprising when it comes to the duration period of the app suite, but Blue Link now allows owners to manage and monitor their vehicle's charging schedule remotely. Owners can even ask Alexa or Google to start and stop charging.
All three variants of the 2019 Ioniq will arrive in dealerships later this summer.