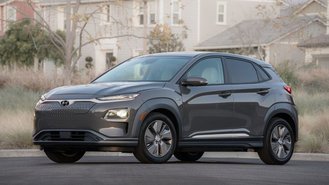 There's little doubt Tesla dominates the electric vehicle (EV) news cycle. Larger-than-life Tesla CEO Elon Musk has stirred up plenty of controversy in the last few months. However, while eyes are on the California company, other automakers are creeping into the EV sphere with competitive products – like the Hyundai Kona Electric crossover that bests most of its competitors. The EPA rated the 2019 Hyundai Kona Electric with a range of up to 258 miles on a single charge and 120 combined MPGe (miles per gallon equivalent), making it one of the most efficient electrics cars on the market.
The Kona Electric's range is 20 miles more than the 2018 Chevrolet Bolt EV and 107 more than the 2018 Nissan Leaf, which is impressive. The Kona Electric even bests the standard Tesla Model 3, which is rated with a range of 210 miles. However, the extended-range version of the electric sedan is rated for 310 miles. Hyundai's EV also checks in just one mile short of the Tesla Model S 75D. Hyundai says it's going to take approximately 9.5 hours to charge the Kona Electric with a 7.2-kw charger on a 240-volt outlet.
While pricing for the Kona Electric hasn't been announced, it costs about $40,000 in Europe and the gasonline-powered Kona starts at $20,500. This leads us to believe that pricing for the 2019 Kona Electric should check in under the $49,000 starting price for the extended-range Tesla Model 3. Expect the vehicle to start arriving in the US soon, though the automaker hasn't announced when it'll go on sale.
What sets the Kona Electric apart from others EVs – outside of its awesome efficiency and range compared to its expected price – is its more traditional styling. Yes, the front fascia is unique, but it retains much of the versatility as its gasoline-powered counterpart. There's no sacrifice on size, utility, or styling.