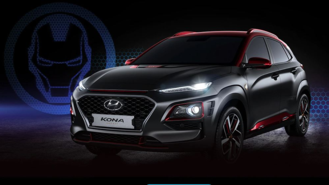 Marvel is absolutely killing it when it comes to superhero movies lately. And for fans that want another way to show that their support for one of the few (major spoilers here!) superheroes that survived Thanos' devastating snap in "Avengers: Infinity War," Hyundai has come out with the Kona Iron Man Edition that you can actually purchase for $31,595 (including destination).

The Kona Iron Man Edition will be available in front-wheel-drive and all-wheel-drive variants, and represent the top-of-the-line trims. Pricing for the all-wheel-drive version starts at $32,995. The superhero-inspired vehicles are based on the Kona's Ultimate trim, which means they come with a 175-horsepower turbocharged 1.6-liter four-cylinder and a 7-speed dual-clutch automatic.

Special touches that are only available on the Iron Man Edition include a matte gray paint job, "Iron-grip" 18-inch wheels, red accents, a bespoke front bumper, a two-tone red roof, and red side mirrors. While that may not sound interesting, the final design will surely make Iron Man devotees proud. Hyundai even went so far to incorporate the design found on Iron Man's mask into the LED accent lights. A V-shaped bezel on the hood mimics the indent found at the top of Iron Man's mask, too.


Hyundai added a few superhero touches on the inside, as well, including a unique HUD welcome animation, a Tony Stark Signature dashboard graphic, a "Stark Industries" interface for the navigation system, Iron Man's shiny mask embossed directly onto the seats, and red stitching on the seats.

Sure, spending an extra $3,050 over the regular Ultimate trim may not sound like a worthy investment for consumers that aren't head over heels for Iron Man. But for the ones out there that are, there's nothing else like this on the market. From that point of view, $3,050 for all of these Iron Man-inspired goodies is something Tony Stark would approve of. He's also a billionaire, though.

This isn't the first time Hyundai has had a vehicle that incorporated some heroic flair. In Marvel Studio's "Ant-Man and The Wasp," Hyundai showcased the new Veloster in a lengthy chase scene. That particular vehicle, though, looked like it belonged on a stage for SEMA, with an outlandish paint job, large flames, and a custom exhaust setup. The Veloster from the movie was a little too far out there to be sold to the public.