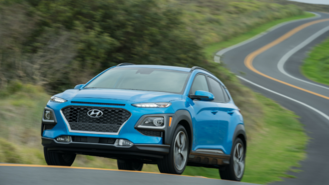 The Hyundai Kona is entering its second model year, and with it comes minor improvements and new features, which in turn means prices have climbed slightly across the lineup. The base 2019 Hyundai Kona SE starts at $20,970, which is $490 more expensive than the outgoing model (all prices include the $980 destination charge).
Pricing for the SEL trim is a bit more complicated though. At $22,780, the 2019 SEL is $850 less expensive than the 2018 model. However, this is because the SEL trim required the $1,500 Tech Package for the 2018 model year. For 2019, the SEL Tech Package is $1,600, which would take the 2019 trim's actual starting price to $24,280, which would make it $650 more expensive.
The 2019 Kona Limited, starting at $26,530, gets an $850 price bump for 2019, while the Ultimate trim gets $100 more expensive, now starting at $28,480.
The price increase comes from new standard features added across the lineup. All trims receive Hyundai SmartSense safety technologies, which include forward collision warning, automatic emergency braking, lane keeping assist, and driver attention warning. Other added features include an additional USB charging port and soft-touch front door armrests and inserts.
The added safety features alone make up for the price increases for the 2019 model year, giving customers a better value than before.