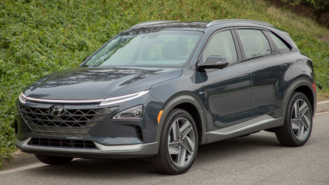 Hyundai's 2019 NEXO fuel cell SUV will soon go on sale at select dealers in Southern California. With an estimated range of up to 380 miles, the automaker hopes to offer a compelling alternative to traditional SUVs. Order guides reveal the model will start just under $60,000, landing just $60 north of the Toyota Mirai.
Pricing for the entry-level NEXO Blue will start at $59,345 including a destination fee of $1,045. The only other trim, the Limited, has been priced from $62,845. There are no options, and both prices are before applicable incentives like the California Clean Vehicle Rebate, which offers $5,000 for eligible buyers.
All NEXOs will come very well-equipped. For example, the base trim comes with LED headlights, 17-inch alloy wheels, a synthetic leather interior and heated power seats. It also comes with a full array of driver assistance features like auto emergency braking, blind spot warning, adaptive cruise control and more.
Opting for the Limited adds $3,500 to the sticker price and gets you larger 19-inch wheels, a hands-free power liftgate, a surround-view monitor, power sunroof, remote parking assist feature, an 8-speaker Krell audio system, heated steering wheel and ventilated front seats.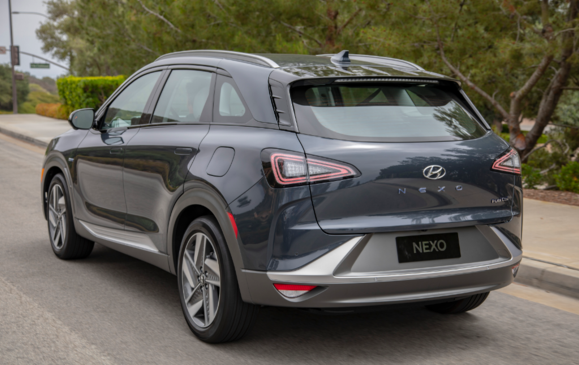 At the time of its launch, the NEXO won't really have a direct competitor. Previously, Hyundai offered the Tucson with a fuel-cell powertrain on a lease-only basis in California with a range of 265 miles. The model was last offered for the 2017 model year and lacked an immediate replacement.
In terms of price, the NEXO's MSRP puts it just $60 higher than the Toyota Mirai sedan ($59,285), which offers a range of up to 312 miles. The Honda Clarity Fuel Cell is capable of 366 miles of driving but is currently listed on Honda's website as unavailable till the spring of 2019.
For reference, the Tesla Model X, a full-electric SUV that straddles the line between a premium and luxury sport model, starts at $85,200 and is capable of 237 miles of driving in base form. A longer-range variant called the 100D can last up to 295 miles but comes with a steep price tag just north of $100,000.
Assuming you can find a hydrogen refueling station in reasonable proximity to where you live, the NEXO could be a compelling alternative for buyers looking for an alternative fuel SUV with impressive range, the latest safety features and real-world versatility.
Apart from the NEXO, Hyundai offers a broad range of alternative fuel vehicles like the Ioniq, available as a hybrid, a plug-in hybrid or full-electric vehicle. The Sonata is also offered as a hybrid and plug-in hybrid, while the subcompact Kona crossover will soon get an all-electric model with a range of up to 250 miles.