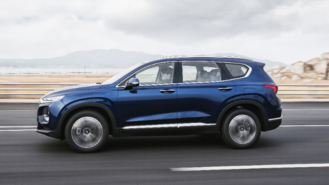 Hyundai surprised everyone when it announced that it would sell a diesel-powered variant of the new Santa Fe SUV earlier this year. SUVs are extremely popular, while diesels seem to be all but dead in the U.S., so the move didn't make much sense. Apparently, it looks like Hyundai has decided to scrub the idea of a diesel-powered Santa Fe, at least for consumers in the U.S.
According to Green Car Reports, a Hyundai spokesman has confirmed the news. The Santa Fe diesel made its debut at the Geneva Motor Show earlier this year and had what sounded like an interesting engine. The diesel motor was good for 190 horsepower and a scrumptious 322 pound-feet of torque. Instead, U.S. consumers will have two engines to choose from: a 2.4-liter four-cylinder making 185 hp and 178 lb-ft of torque and a turbocharged 2.0-liter four-cylinder generating 235 hp and 260 lb-ft of torque. While the diesel was down on horsepower, it made a lot more torque.
The news isn't really surprising, as Kia, Hyundai's twin, recently announced that it too wouldn't be introducing a 2.2-liter turbodiesel engine for the Kia Sorento. Interestingly, as the outlet claims, the decision to forgo the addition of a diesel powertrain could lead to a plug-in hybrid Santa Fe.
Consumers wanting a diesel powertrain in an SUV still have some vehicles to choose from. Jeep, Jaguar, General Motors, and Land Rover all offer SUVs that run on diesels. Mazda recently introduced its first diesel-powered vehicle in the U.S. with the CX-5 diesel, but that vehicle isn't officially on sale yet. Just like Hyundai, Mazda could decide to backtrack on its decision to offer a diesel in the U.S.