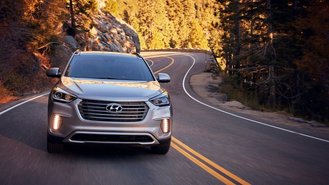 For the 2019 model year, Hyundai decided to shake things up for the Santa Fe. The previous Santa Fe Sport that was a five-passenger-only model is now just called the Santa Fe. The three-row, seven-passenger variant has been renamed the Santa Fe XL. Now, we know that the 2019 Santa Fe XL starts at $31,830, including the $980 destination charge.
That price lands you into a SE trim with front-wheel drive. All-wheel drive is an additional $1,750. The range-topping Limited Ultimate trim costs $40,530 for front-wheel drive, while all-wheel drive is again an extra $1,750. While the name change is a little confusing to get used to, Hyundai's simplified things with pricing, as the Santa Fe XL shares the exact same prices as last year's Santa Fe.
The 2019 Santa Fe XL costs $5,350 more than the new Santa Fe, which replaces the old Santa Fe Sport. Unlike before, when both the five-and seven-passenger models shared more than just a name, the new Santa Fe and Santa Fe XL are two drastically different vehicles. Essentially, the Santa Fe XL is a carryover model, while the Santa Fe is all new.
The new Santa Fe is sporting a more athletic design that shares some cues from the Hyundai Kona. The Santa Fe XL looks identical to the old Santa Fe. Besides looks, the smaller Santa Fe features a 185-horsepower, 2.4-liter four-cylinder engine, while the Santa Fe XL model is powered by a 290-hp, 3.3-liter V6 as standard. Transmissions are different, too, as the regular Santa Fe has an eight-speed automatic, while the Santa Fe XL model comes with a six-speed automatic.