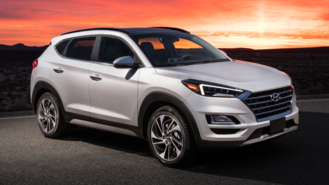 Hyundai is bringing back the Tucson Night, a blacked-out special edition not seen since 2017. Although the automaker says the Night will be a variant of the 2019 Tucson Sport, its MSRP will actually make it nearly $3,000 more expensive. It'll even be pricier than the Tucson Limited.
Order guides show pricing for the new Tucson Night will start at $31,695 including destination, $2,950 more than the Sport ($28,745) and $1,750 more than the Limited ($29,945).
Compared to the Sport, the most noteworthy differences in terms of exterior styling will be a gloss black grille with dark chrome surround, gloss black side mirrors, dual exhaust tips and sporty 19-inch BBS alloy wheels with a black satin finish.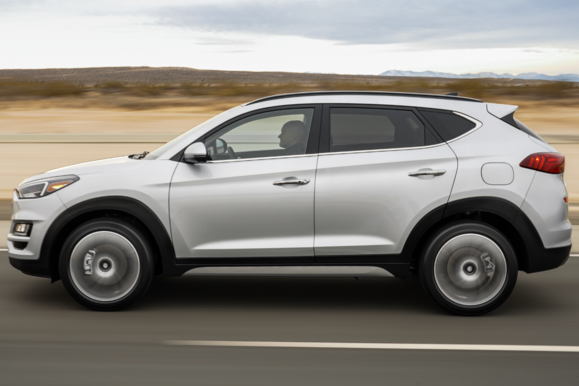 Color choices are limited to Coliseum Gray, Dazzling White and Gemstone Red, although these aren't unique to the Night because you can get them in either the Sport or Limited. There's only one interior choice— you guessed it, black cloth.
Inside, the Night gets a perforated leather steering wheel, leather shift knob and aluminum pedals. You also get a panoramic sunroof, something you currently can't get outside of the range-topping Tucson Ultimate.
You'll also get the same 181 hp, 2.4-liter engine as the less-expensive Sport, although there will be some key differences when it comes to safety features.
All Tucsons come with auto emergency braking, but the Night gets a more advanced system with pedestrian detection. You'll also get adaptive cruise control with stop & go capability. Both are features that, up until now, were only offered in the Ultimate.
So will buyers shell-out nearly $32,000 for a blacked-out Tucson?
In terms of value, the Tucson Night could be a questionable proposition for some buyers. Those cross-shopping different Tucsons may find upgrading to the Ultimate to be a smarter alternative. It's $900 more expensive and starts at $32,595.
We suspect calling it a variant of the Tucson Sport will likely confuse buyers since it's nearly $3,000 more expensive and actually sits at nearly the top of the range. Odds are the vehicle will appeal to buyers attracted by its looks and unique mix of safety features.
Learn more about the 2019 Tucson on sale now
Editor's Note: Hyundai has not yet released photos of the Tucson Night edition. The above images are that of the current Tucson.