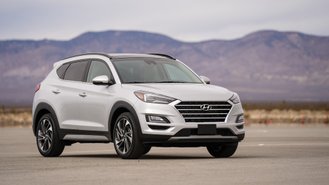 With the Insurance Institute for Highway Safety's (IIHS) testing catching automakers off guard for headlights that don't make the cut, some brands have taken the unorthodox approach of making changes midway through the year to get better safety score. That's exactly what Hyundai has done with the 2019 Tucson, and the compact SUV boosts its score with the organization's highest rating.
While Hyundai proudly claims that 2019 Tucsons built after March 2019 earn a Top Safety Pick Plus rating, the South Korean brand doesn't exactly state what it's changed on the SUV. All it says is that the designation "applies to Tucsons equipped with Forward Collision-Avoidance Assist and LED headlights…"
Comparing scores from 2018 vehicles to the revised 2019 model year models reveals one crucial change: headlights. Previously, the Tucson was named a Top Safety Pick by the IIHS, meeting all of the necessary requirements. The SUV missed out on the Plus designation because of its headlights that earned a rating of Poor, Marginal, and Acceptable. A score of Good is needed to get the IIHS' highest award.
The changes affect Sport, Limited, and Ultimate trims built after March 2019 that have LED projector headlights. These units were found to be Good. Hyundai claims that the Top Safety Pick Plus rating applies to vehicles with Good-rated headlights and the brand's Forward Collision-Avoidance Assist system, which is standard throughout the entire lineup.
With the changes, getting into a Tucson that meets the IIHS' Top Safety Pick Plus rating costs $28,745 (including destination) with the Sport trim.
This isn't the first time Hyundai has made changes to vehicles in the middle of the year to improve a car's safety scores. Earlier this year, Hyundai did something similar with the 2019 Veloster where it altered hatchback's passenger-side rear door for models built after January. The change helped the Veloster be named a Top Safety Pick. Last year, Hyundai changed the Kona's headlights and the subcompact crossover was named a Top Safety Pick Plus.