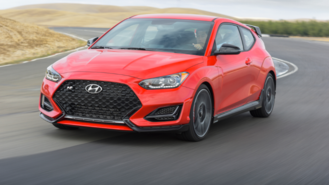 Hyundai's built quite the reputation for itself for offering loads of value at an affordable price. With the brand's first true hot hatchback in the U.S., the 2019 Hyundai Veloster N, it's looking to do the same thing, as the vehicle will be one heck of a good value proposition for a performance vehicle.

The Veloster N will start at $27,785 (prices include $885 destination fee) when it goes on sale at the end of the year. That's for the base Veloster N, which features a turbocharged 2.0-liter inline-four that produces 250 horsepower and 260 pound-feet of torque. In a move that will make purists rejoice, the Veloster N is only available with a six-speed manual transmission. Front-wheel drive is also standard.

Over the rest of the Veloster lineup, the Veloster N also comes with its own bespoke styling, 18-inch alloy wheels, sporty brakes, Michelin Pilot Super Sport tires, five different driving modes, and electronically controlled suspension.

Those looking for the hottest hot hatch available, pricing for the Veloster N with the N Performance Package starts at $29,885. Adding that package to the vehicle raises power to 275 hp and adds a limited-slip differential. Pirelli P Zero tires replace the Michelins and larger brakes are also added to the mix.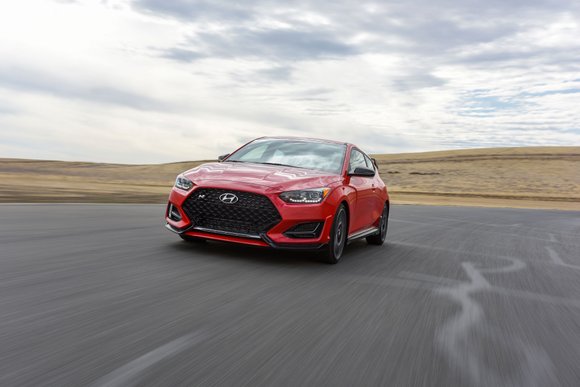 Compared to the Honda Civic Si, Volkswagen Golf GTI, Ford Focus ST, and Subaru WRX, the new Veloster N is priced competitively. While the Civic Si, Golf GTI, and Focus ST cost less than Hyundai's sporty hatchback, the Veloster N has more power.
The Civic Si has 205 hp, the Golf GTI produces 220 hp in base form, and the Focus ST is good for 252 hp. As all of the options are sporty variants of regular compact cars, all of them have similar performance components, so it will mostly come down to the way the vehicle handles.

The Veloster isn't exactly a popular car in the compact segment. In the first 10 months of 2018, Hyundai has sold 8,857 units of the vehicle, reports Car Sales Base. During the same timeframe, Volkswagen has shifted 37,358 units of the Golf. That figure, though includes the regular Golf, the Golf GTI, the Golf R, and the Golf Sportwagen. Honda, more impressively, has sold 277,486 Civic models so far in 2018. With that in mind, Hyundai may have a hard time competing against VW and Honda in the sporty compact segment.