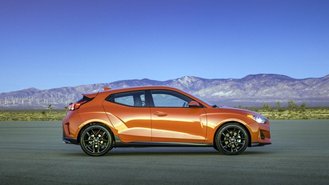 Recently, Hyundai has been working on making sportier vehicles that are fun to drive, but that doesn't mean the South Korean brand will ditch its humble, value-oriented roots. The outgoing Hyundai Veloster was a great example of how the brand injected some fun to go with an affordable price and a lengthy list of features. It looks like the new 2019 Veloster will follow the same proverb.
The new Veloster starts at $19,385, which includes the $885 destination fee, for the base trim that comes with a 2.0-liter inline-four engine and a six-speed manual transmission. If you want an automatic gearbox, that raises the price of the vehicle by $1,000 to $20,385. The Premium trim is the top-of-the-line model for the Veloster with the 2.0-liter motor and costs $23,635.
Veloster Turbo models are powered by a 201-horsepower, 1.6-liter turbocharged inline-four. The most affordable way to get that motor is with the Turbo R-Spec trim that starts at $23,785 with a manual gearbox. Going with a seven-speed dual clutch automatic transmission raises the price to $26,285.
The range-topping Velosters are referred to as the Ultimate trims and start at $27,535. The dual-clutch variant of the trim costs an additional $1,500, which means the Veloster tops out at $29,035. Pricing for the all-new performance Veloster N hasn't been announced yet.
Compared to the outgoing Veloster, pricing for the 2019 model has gone up by $400. Even with the price increase, the new Veloster is still a good value. The Ford Fiesta, which will be discontinued in the near future, starts at $15,380, making it one of the cheapest little hatchbacks in the segment. The Volkswagen Golf costs $21,760, while the Mazda3 hatchback starts at $20,235.