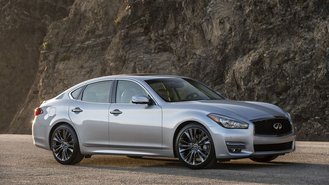 The aging Infiniti Q70 will soldier on for at least a few more years. However, those wanting a hybrid version are out of luck. For the 2019 model year, Infiniti is eliminating the Q70 hybrid from the lineup. This isn't the first hybrid eliminated from an Infiniti model. Last year, the Japanese automaker eliminated the QX60 hybrid offering.
This leaves just two engine choices for the Q70: a 3.7-liter V6 making 330 horsepower and a 5.6-liter V8 producing 420 hp. Those wanting a hybrid will have to settle for the smaller Q50 hybrid. Neither of those engine choices is particularly satisfying. The V6 starts at $51,295 (all prices include destination) for the Luxe trim while the V8, disappointing in performance when compared to its competitors, commands at least $64,345.
The 2019 Infiniti Q70 comes exclusively in the Luxe trim, meaning customers receive a 10-speaker Bose audio system, a surround-view camera, leather trim, and front and rear proximity sensors.
The Q70, initially the M when released in 2011, has changed little since it debuted in the US. A mild refresh buoyed sales in 2015, but the car and platform are still dated. A successor is coming on a new front-wheel-drive platform with electrification. Yet, the first model on that platform won't debut until 2021, leaving the aging platform to flounder for a few more years.