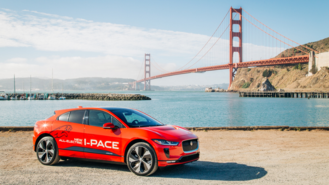 Jaguar recently confirmed that it had just completed its first delivery of the 2019 I-Pace EV earlier this month, and now we know what kind of range that model, and the rest of the I-Paces that Jaguar delivers, will have.
In an official specification sheet for the 2019 I-Pace, Jaguar states that the electric crossover will have a 234-mile range thanks to its 90-kWh lithium-ion battery pack. That figure is short of what Jaguar was promising when it first unveiled the vehicle, which was 240 miles. The good news, though, is that the I-Pace's official range is competitive for the crossover landscape.
The Chevrolet Bolt has a range of 238 miles and the base Tesla Model X 75D with the 75-kWh battery pack has a range of 237 miles. So, the new I-Pace is right there against those two vehicles. Jaguar's electric vehicle, though, does get overshadowed by the Hyundai Kona EV, which has a range of 258 miles.
While slightly down on range against its rivals, the I-Pace does have some upsides. For one, Hyundai stated that the Kona EV will have initial availability in California and other ZEV-focused states, predominantly in the northeast and western regions of the U.S. While that doesn't definitively doesn't rule out Hyundai's option of spreading out to the rest of the country later on, buyers will at least have to wait for the Kona EV. Then there's Tesla's lack of dealerships and the fact that it's even banned from selling cars in some states that makes getting one of its vehicles a little trickier. At the moment, the I-Pace doesn't have either of those issues. Jaguar has plans to sell the vehicle across the nation through its network of dealers.
Pricing for the I-Pace starts at $70,495 (including the $995 destination fee). The EV is eligible for the $7,500 federal tax credit and any other incentives individual states will give buyers, too. That price makes it more expensive than the Bolt and probably the Kona – pricing for that vehicle hasn't been announced yet – but more affordable than the Model X, which carries a starting price tag of $83,000.