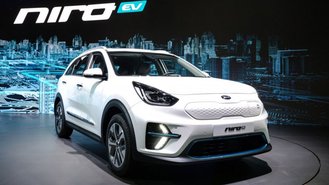 Kia introduced the Niro EV at the Busan Motor Show in South Korea earlier this week. The all-electric variant of the crossover joins the hybrid and plug-in hybrid versions of the Niro, and will debut as a 2019 model early next year. It's expected to deliver 236 miles of range on a single charge.
The Niro EV features two battery options: a 39.2-kilowatt-hour (kWh) pack and a 64-kWh unit (the same offered on the upcoming Hyundai Kona Electric). The US model should only receive the larger battery. Kia estimates the 39.2-kWh battery will offer 150 miles of range, while the 64-kWh can deliver 236 miles. We'll have to wait and see what the EPA says when they measure the vehicle closer to launch for firm numbers.
A single electric motor sends power to the front wheels and delivers 201 horsepower. Kia says the Niro EV can go from zero to 62 miles per hour in 7.8 seconds.
Kia gave us a glimpse at the Niro EV with a concept of the same name in January at the 2018 Consumer Electronics Show (CES) in Las Vegas. The production model is much more toned down, as expected, but offers several unique treatments and features.
The 2019 Kia Niro EV differs from other Niro models with a sealed-off grille, a unique wheel pattern, arrowhead-shaped LED daytime running lights, and LED taillights on the outside. Inside, the Niro EV receives blue dashboard accents, a rotary shifter, a new center console design, and a larger seven-inch touchscreen. The infotainment system has dedicated pages to track range, driving efficiency, places to charge the vehicle, and more.
Expect pricing information closer to launch, but we suspect it to be competitive with the Chevrolet Bolt EV. For reference, the 2018 Bolt EV starts at $37,495 including destination, while pricing for the 2018 Kia Niro Plug-In Hybrid begins at $28,840.
The 2019 Kia Niro EV goes on sale in Korea in late 2018, so we can expect it in the US sometime in early 2019. We'll get more specifications on the US model closer to that time.