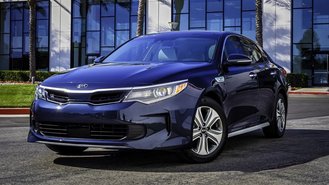 Kia is cutting pricing on the Optima Hybrid by almost $3,000 for 2019. However, a closer look reveals there will be some trade-offs when it comes to equipment when compared to the previous year.
Order guides reveal the model will only be offered in a single EX trim, as opposed to the somewhat confusing pairing you can find today of Premium & EX styles.
Perhaps most importantly, the EX's price tag has been cut $2,980, down from $31,885 with destination to just $28,905. At the same time, the entry-level Premium has been discontinued.
The Plug-In Hybrid (PHEV) sees a small uptick of $105 from $36,105 to $36,210. Both the Hybrid and PHEV gain LED daytime running lights, heated exterior mirrors and blind spot warning with cross-traffic alert and rear parking sensors.
Fuel economy remains at 42 mpg for the Hybrid and 103 MPGe for the PHEV. The PHEV continues to offer a range of up to 29 miles on EV power, well short of the 53-mile Volt, but better than the 2019 Fusion Energi (20 miles) and Prius Prime (25 miles).
That all sounds simple enough, but subtle packaging changes may confuse some shoppers.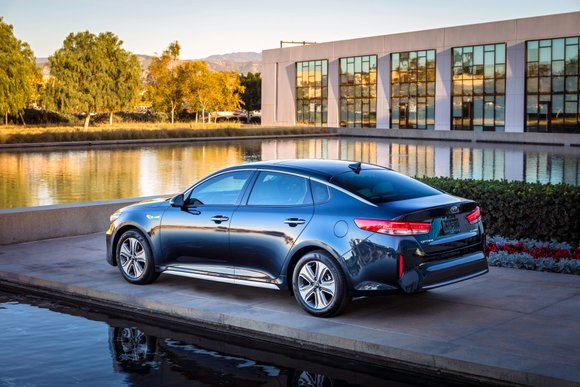 For instance, blind spot warning used to require choosing the EX with Tech Package (MSRP $36,885). However, things that used to be standard in the EX like nav, 10-speaker harmon/kardon audio, 17-inch alloys, and 12-way power seats now require the $5,200 Tech Package.
Although some will undoubtedly find it more difficult to make an apples-to-apples comparison with last year's model at their local dealer, we suspect the latest versions will in most cases offer a more compelling value.
In particular, the Optima Hybrid EX may equate to a better upgrade now over a regular gas EX, with a price difference of just $1,185 ($28,905 vs. $27,720), compared to $5,290 previously.
Upgrading from the Hybrid to the Plug-In could be a tougher sell because the gap in price has increased from $4,220 to $7,305. However, better incentives may help offset the difference.
Shoppers should be sure to consider the value of the Federal Tax Credit on PHEVs ($4,919 for last year's model, 2019 figure not yet posted) plus incentives like the California Clean Vehicle Rebate ($1,500 for most buyers).
Learn about the current Optima Hybrid on sale now »
Pictured: 2018 Optima Hybrid