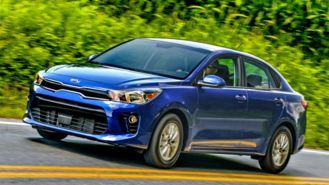 Kia is cutting the number of versions you can buy for its most-affordable model in half. For 2019, order guides show the Rio will only be offered in two trim levels, LX and S. In addition, the model will lose the option to choose a low-priced model with a manual transmission.
Previously, shoppers could choose LX, S and EX versions of both the 4-door sedan and 5-door hatchback for a total of 6 possible combinations. Going forward, the automaker will only offer three available configurations: LX Sedan, S Sedan and S Hatchback.
In a letter sent to dealers, Kia says the move allows it to focus on the value-oriented Rio S while keeping the LX around as a lower-volume trim. The most noteworthy changes for 2019 are with the S trims, which get a 7-inch touchscreen with UVO Play and Apple CarPlay/Android Auto Support plus a backup camera.
As part of the changes, last year's 6-speed manual transmission has also been discontinued. All Rios will now only be offered with a 6-speed automatic. Fuel economy ratings for the 2019 Rio haven't been posted yet, but we think it's worth noting that last year's car had identical overall ratings for the manual and automatic at 32 mpg.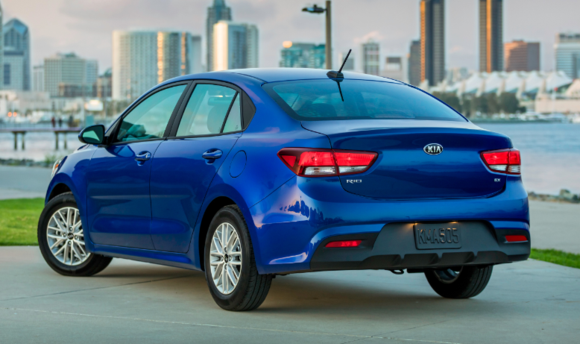 Prices have risen accordingly now that the manual is gone. The 2019 Rio LX Sedan is listed at $16,195 including destination, $1,400 more than the last year's most-affordable configuration. However, next to a similarly-equipped automatic, the difference is a mere $310.
Further up the range, the Rio S Sedan has been priced from $16,995 while the S Hatchback starts at $17,295. Both prices are identical to the previous year. Advanced safety features like auto emergency braking are optional in the S with the $800 Technology Package.
If you're a fan of manual transmission economy cars, Nissan still builds the Versa Sedan with a 5-speed manual and a bargain-basement price of $13,255. However, given that vehicle's exceptionally poor ratings, shoppers may find alternatives more appealing (albeit more expensive).
Currently in its second year of a redesign, the Accent did well in our latest review in which we liked the car's quiet, comfortable interior and smooth ride quality. But at around $16,000, shoppers may cars like the Kia Forte or Hyundai Elantra more compelling with generally around twice the amount of discounts.
Pictured: 2018 Rio