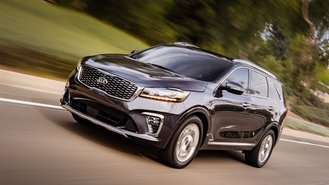 Fuel economy figures for the 2019 Kia Sorento have been officially revealed by the EPA and the SUV is more fuel efficient than last year's model.

For 2019, the Sorento with the 2.4-liter four-cylinder engine is capable of returning 22 mpg in the city and 29 mpg on the highway for a 25-mpg combined rating. Going with the 3.3-liter V6 engine brings those figures down to 19 mpg in the city and 26 mpg on the highway, which results in a combined rating of 22 mpg. Those figures are marginally better than what the 2018 Sorento is rated to get.

The 2018 Sorento has a fuel economy rating of 21 mpg in the city and 28 mpg on the highway for the 2.4-liter four-cylinder engine. The six-cylinder motor is capable of achieving 18 mpg in the city and 25 mpg on the highway.

The increase in fuel economy for the 2019 model year comes from a revised six-speed transmission for the four-cylinder and a new eight-speed automatic for the V6 engine. Previously, the Sorento was only available with a six-speed automatic transmission. The addition of the eight-speed helps V6-powered models get 22 mpg combined, a jump in two mpg over last year's model with the six-speed gearbox.

When compared to competitors, the Sorento is on par with other midsize SUVs. The V6-powered Toyota Highlander has a combined rating of 23 mpg, the six-cylinder Nissan Murano is good for 24 mpg combined, the Mazda CX-9 with the four-cylinder engine is rated to get 24 mpg combined, and the Hyundai Santa Fe Sport has a combined rating of 24 mpg.

According to Car and Driver, Kia is looking into stuffing a diesel engine into the Sorento as early as the end of the year. The outlet believes that the obvious powertrain would be a 2.2-liter inline-four turbo-diesel that's offered in the Sorento in Europe. That engine is good for 197 horsepower and 325 pound-feet of torque. While its power output would put it neatly in between the four-cylinder and V6 options, the main talking point is the diesel's fuel economy, which is rumored to be around 30 mpg on the highway.

If the diesel engine does make its way to the United States and does have a highway rating of 30 mpg, it would help the Sorento compete with hybrid midsize offerings and some more compact vehicles like the Nissan Rogue Sport, Mazda CX-5, and Hyundai Kona. The main question, though, is how much the diesel powertrain will cost.