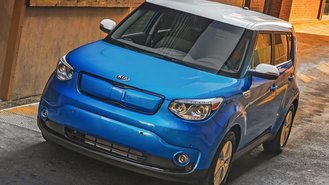 Kia has quietly discontinued the most affordable version of the Soul EV for 2019. Order guides show the "EVe" variant sold only in California will no longer be offered, leaving just two trims going forward: Base and Plus.
The EVe used to offer a $1,700 advantage over the Base at just $33,145, and has been eligible for some of the model's most aggressive lease deals. MSRPs for the Base and Plus remain unchanged at $34,845 and $36,845.
In terms of deals, the EVe was listed around this time last year at just $159 for 36 months with $1,999 at signing, an effective cost of $215/month before factoring the additional savings of the California Clean Vehicle Rebate.
However, the EVe has been incredibly difficult to find so far this year. In fact, any Soul EV has been an extremely rare sight at dealers even here in California. As a result, the demise of the EVe may not mean much to shoppers.
Despite its limited availability, the 2018 Soul EV remains eligible for some steep discounts. For example, the EV Plus features a $16,700 discount when leasing, reflecting a $9,200 lease incentive and $7,500 Federal Tax Credit.
No major changes are coming to the 2019 Soul EV in terms of specs or features. As before, it will come with a 30 kWh battery and EPA-estimated 111 miles of range with a rating of 108 MPGe in combined city/highway driving.
Apart from the lack of an EVe model, Kia is cutting its free subscription to UVO eco with Nav down from 3 years to just 1. Along with features like Find My Car, the service lets you request roadside assistance, conduct diagnostics and more.
Although one could argue that the Soul EV is a bit of a relic that pales next to newer entrants like the feature-packed 150-mile Nissan LEAF and 238-mile Chevy Bolt EV, it may just be a placeholder for something better.
Later this year, Kia plans to introduce an all-electric version of the Niro crossover with a range of 240 miles and an electric motor capable of producing 201 hp. With specs like those, it may be smarter to wait.
For now, the Soul EV does offer some advantages over competitors. Next to a FIAT 500e, it seats 5 versus just 4 and offers more range (111 miles vs. 84). It also offers things you can't get in a Bolt, like a sunroof and ventilated seats.
Learn about the current Soul EV on sale now »
Pictured: 2018 Soul EV