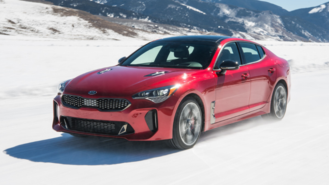 The Kia Stinger is, arguably, the most driver-focused vehicle from the South Korean brand. While the vehicle was a fresh addition to the market for 2018, the manufacturer's website shows the brand is making some changes for the 2019 model year that are driving up the model's price tag.
The Stinger 2.0L trim, which is powered by the turbocharged 2.0-liter inline four-cylinder engine, now comes with 18-inch machined finish wheels, blind-spot monitoring, and rear cross-traffic alert as standard. A new optional Sun and Sound Package has been added to the options list that adds a sunroof, a Harman Kardon premium audio system, an eight-inch touchscreen with navigation, and LED headlights.
Premium and GT1 trims now come with Kia's full suite of advanced driver-assist features, which includes adaptive cruise control, lane keeping assist, lane departure warning, lane change assist, high beam assist, driver attention warning, forward collision warning, automatic emergency braking, blind-spot monitoring, and rear cross-traffic alert. On the inside, ventilated front seats and wireless charging have also been added as standard.
Enthusiasts will enjoy hearing that Kia has added a mechanical limited slip differential to all rear-wheel-drive models. Last year, the GT trim could be fitted with a limited slip differential as an option, while the feature was standard on the range-topping GT2. Kia doesn't specify if the component will be standard or optional, but we'll go out on a limb and say it'll continue to be an option.
The last set of changes include the addition of a surround-view camera system and heated rear seats on the GT2. Once again, Kia didn't clear whether these are standard or not, but we're going to assume that they'll be available as options.
Depending on what Stinger trim you go with, prices have gone up by as much as $2,020. The entry-level 2.0L now starts at $33,820, an increase of $1,020 (prices include destination). The Premium trim sees the largest increase in price – the full $2,020 figure – with a starting price tag of $40,020. The other notable trim to get a substantial bump in pricing is the GT1, which now costs $46,020, which is $1,870 more than before.
While the Premium and GT1 trims see the largest increase in pricing, they also get high-tech safety features as standard, which aren't exactly cheap. Kia grouped the safety features into the Kia Drive Wise Package last year, which used to cost $2,000 on both trims. The $20 increase in the destination fee, up to $920 from $900, explains the rest of the rise in pricing.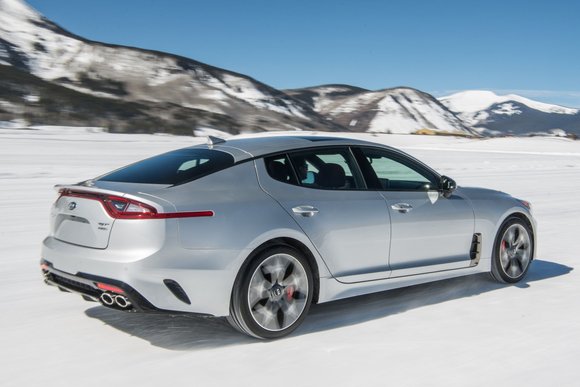 Pricing may have gone up, but the Stinger is even more of a value proposition over its German and Japanese rivals. Sales for the Stinger aren't exactly stellar for 2018, as Good Car Bad Car reports that Kia has only sold 12,999 units this year. BMW sold 34,731 units of the 3-Series, while the Mercedes-Benz C-Class accounted for 42,253 units so far in 2018. Even the Lexus IS, with its odd spindle grille, managed to be more popular than the Stinger, as 17,393 units of the sedan have been sold so far.