Lincoln is hoping a big boost in safety equipment will increase the appeal of the slow-selling MKZ sedan for 2019. Order guides show that, like the Ford Fusion, the car will gain automatic emergency braking as a standard feature.
However, a closer look reveals two additional changes worth knowing about. The first involves the elimination of the Black Label trim and the limitation of the model's 400 hp twin-turbo V6 to the most expensive trim.
Here's what you need to know.
More Safety Tech
For 2019, all MKZs will get Lincoln Co-Pilot360, a suite of features that includes auto emergency braking with pedestrian detection, blind spot warning, lane departure warning with lane-keeping assist, adaptive cruise control with stop & go capability, auto high beams and a backup camera.
Although competitors like the Lexus IS already offer features like these on entry-level styles, this marks a big move for the MKZ. Previously, adding auto emergency braking required stepping up to the nearly $42,000 MKZ Select with Tech Package. Now, you'll be able to get it in the base MKZ with an MSRP of $36,990 including destination.
In addition to a lower price point to get those features, shoppers may appreciate the fact that the model's base price hasn't risen a ton as a result. At $36,990, the MKZ will be just $460 more than last year's base price of $36,530. From a value standpoint, this could be a strong selling point for cross-shoppers.
To put that in perspective, an Infiniti Q50 with emergency braking and blind spot warning requires stepping up to the 2.0T LUXE model with $4,100 in options and an MSRP of $42,645. This potentially gives the MKZ an over $5,600 advantage before factoring-in any sort of incentives.
Bye-Bye Black Label
Although most buyers probably won't notice, Lincoln will no longer offer a range-topping Black Label trim in the 2019 MKZ. The option continues to be available in other 2019 Lincolns like the refreshed MKC and upcoming Nautilus. While it's tempting to speculate what this means for the brand and future of the MKZ, the answer is likely more simple.
In an effort to reduce complexity, the MKZ will only be offered in three versions: Base (which the brand is simply calling "MKZ"), Reserve I and Reserve II. Previously, the vehicle was available in trims called Premiere, Select and Reserve, a naming structure that could be considered difficult to decipher.
First introduced for 2015, Black Label was meant to showcase the brand's highest expression of luxury. In addition to exclusive interior themes, the brand touts "membership privileges" like a 4-year maintenance plan covering routine service with perks like free pickup & delivery plus free car washes. Owners can also access special events at restaurants.
Exclusive Twin-Turbo Now More Exclusive
Subtle changes in packaging are coming under the hood, too. That's because the "Lincoln exclusive" 3.0-liter twin-turbo V6 will now only be offered in the most expensive Reserve model. At one point, you could upgrade to it from the mid-level Select model, bringing output to 350 hp with front-wheel drive and 400 hp with all-wheel drive.
Going forward, the engine will only be available in the range-topping Reserve II with an MSRP of $48,740 for the front-wheel drive version and $51,740 with all-wheel drive. This has effectively raised the price point for the most powerful engine by up to $6,600 compared to last year's prices for the twin-turbo Select of $42,175 and $45,065, respectively.
Murky Future?
Like most models in the luxury segment, sales of the MKZ have suffered as customers flock to SUVs. The brand has enjoyed success with the popularity of the MKC and Navigator, but its entry-level car has remained in the doldrums.
As of last month, Lincoln sold just 9,675 MKZs in 2018, marking a 32% drop compared to the same period last year. Will an increase in the car's value proposition help spur sales? That remains to be seen.
We asked a Lincoln spokesperson what these changes mean for its Black Label offerings and, for that matter, whether or not the MKZ is set to be discontinued given Ford's plans to kill the Fusion around 2020. We received no response.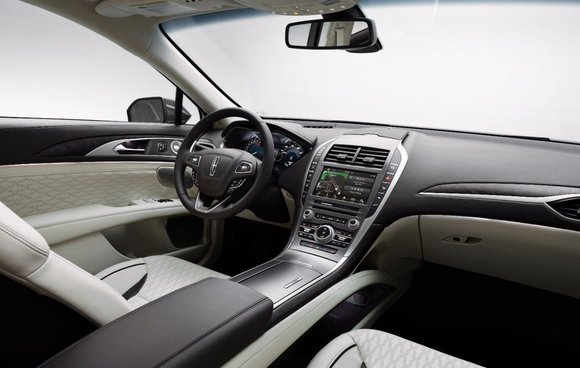 It's entirely possible that not even Matthew McConaughey may be able to save the ailing model. For now, those looking for a more accessible choice in the premium segment with standard active safety features seem to have a solid option.
Having said that, Ford is adding more tech to well-equipped 2019 Fusions, increasing prices by up to $6,000. As a result, some shoppers may find even less differentiation in price between a loaded Fusion and base model MKZ.
If you're looking for a deal, the 2018 MKZ has some attractive offers worth knowing about. In addition to 0% APR for 60 months, the brand is offering up to $3,000 in offers when including a $500 bonus for coming from a competitor.
Learn more about the 2019 Lincoln MKZ »
Editor's Note: 2017 MKZ pictured