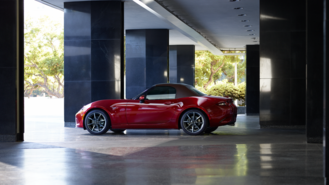 Mazda decided to get in front of the rumors and speculation circling its 2019 MX-5 Miata and released all of the juicy details on the new sports car. The Japanese automaker confirmed that the little roadster would get more power and some new technology, as well.
The largest and most crucial update is the modest increase in power. The 2.0-liter four-cylinder engine has been updated to pump out 181 horsepower, up from 155 hp. Torque remains the same at 151 pound-feet. The engine's redline has also been increased from a modest 6,800 rpm to a ridiculous 7,500 rpm.
Another performance change is the addition of a higher final drive ratio, which has been upped from 3.583 to 3.454. This small change should help the Miata put down a quicker zero-to-60 mph time. The current Miata is capable of making that sprint in less than six seconds.
The 2019 model year will also bring some new technology features to the Miata. The sports car gets a rearview camera as part of its standard features, which is to make sure the vehicle complies with federal regulations. Specific trims will have Traffic Sign Recognition and Smart City Brake Support – a fancy term for automatic emergency braking – as options.
The interior also gets a new feature in the form of a telescoping steering wheel. New models will look a little differently, too, with updated black metallic 17-inch wheels and a brown soft top.
All of this stuff sounds like it'd be taking away from the Miata's ethos of being a lightweight, fun-to-drive sports car. But Mazda claims that weight has only gone up by seven pounds. To keep weight down with the addition of new features, Mazda cut weight from other places, like using an aluminum steering shaft instead of a steel unit like in the old model.
The 2019 MX-5 Miata goes on sale later this fall, with pricing to be announced at a later date. We don't expect the price to deviate too far from what it is now.