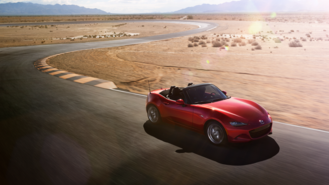 The fourth-generation of the Mazda MX-5 Miata retains an old-school demeanor that puts driving pleasure above all-out horsepower. Now that the model is entering the halfway mark in its lifespan, news of changes for the 2019 model year have emerged. The biggest tidbit of information is that the 2019 Mazda MX-5 Miata will get a decent bump in power.
According to Japan's Car Watch, the 2019 MX-5 Miata will have a more powerful engine. Currently, the 2.0-liter four-cylinder is rated to make 155 horsepower. According to information the outlet received, the sports car's engine will be upgraded to make 181 hp. In addition to the bump in power, the engine will also have a higher redline. The motor will be able to rev out to 7,500 rpm instead of the current engine's redline of 6,800 rpm.
While those changes would be enough to have MX-5 Miata fans running to their local dealerships, the changes don't stop there. Car Watch claims that the sports car will get a new dual mass flywheel that'll result in fewer vibrations making their way into the cabin. Another major change will be the addition of a telescoping wheel, which is a first for the model.
Less importantly, the 2019 model will come with some new color schemes on the inside and outside and some new technology. Automatic emergency braking is expected to be added to the MX-5 Miata, but it's unclear whether that piece of tech will only be offered on models with an automatic transmission.
The new 2019 Mazda MX-5 Miata goes on sale in Japan later this July, while the sports car is expected to become available in the US before the end of the year.