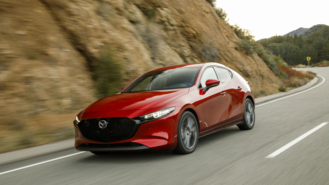 The Insurance Institute for Highway Safety (IIHS) has put the 2019 Mazda3 hatchback and sedan through its tests, and the organization named both body styles as Top Safety Picks, matching the previous model's rating. Interestingly, while both vehicles earned Top Safety Pick awards, the hatchback did so with standard equipment, while the sedan required an optional front crash prevention system.

As a quick recap, a vehicle must earn a rating of "Good" in the IIHS' crash tests, a front crash prevention system that earns either an "Acceptable" or a "Good" rating, and headlights that are found to be "Acceptable" or "Good." Both of the Mazda3's body styles met the requirements.

Where the hatchback and sedan differ is their front crash prevention systems. The Mazda3 sedan, which starts at $21,920 (including destination) doesn't come with a front crash prevention system as standard. Mazda does offer its Smart Brake Support system as standard on the sedan, but it's available on the Select Package and up. The most affordable way to get into a Mazda3 sedan that earned the IIHS' Top Safety Pick rating is with the Select Package that starts at $23,520.

The Mazda3 hatchback carries a starting price of $24,520 and comes with Smart Brake Support as standard. Regardless of whether you get a sedan or a hatchback, the Mazda3's front crash prevention system was found to be "Superior."


The one thing holding the Mazda3 back from earning the IIHS' Top Safety Pick Plus award is the vehicle's headlights. The institute found the vehicle to have headlights that were found to be "Acceptable." Headlights have to earn a rating of "Good" to earn the Plus designation. Subpar headlights are an issue that affects a lot of automakers.

Compared to the competition, earning a Top Safety Pick award is good. Compared to other compacts, the 2019 Toyota Corolla is also a Top Safety Pick. The 2019 Hyundai Elantra, 2019 Kia Forte, and 2019 Subaru Impreza were named Top Safety Pick Plus vehicles.