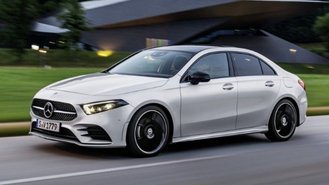 Looking for an entry-level Mercedes has become difficult. The once tried-and-true C-Class has moved upmarket, leaving a vital segment empty for the automaker. However, that changes with the introduction of 2019 Mercedes-Benz A-Class, a traditional sedan that's poised to compete with the Audi A3 and Acura ILX.
The new A-Class will hit US dealerships with one trim: the A220, which will be either front- or all-wheel drive. A220 4Matic models receive a multi-link rear suspension, while the front-wheel-drive model uses a simple torsion-beam setup – likely to keep costs down. The A220 is powered by a turbocharged 2.0-liter four-cylinder engine producing 188 horsepower. Seventeen-inch wheels are standard while 19-inch wheels are optional along with adaptive dampers.
Inside, the A-Class looks upscale considering its entry-level intentions. The instrument cluster and touchscreen, of which there are two different sizes (7.0 or 10.3 inches), blend together and float above the dashboard. The A-Class ushers in Mercedes' new MBUX infotainment system that relies heavily on voice commands. Control of the infotainment system is available through touchscreen inputs, steering-wheel-mounted controls, and a center-console-mounted touchpad. However, the dash lacks buttons, such as a knob for the volume.
The new A-Class also packs some technology with automatic emergency braking as standard. However, much of the safety technology is optional, which includes active lane keeping assist, collision mitigation, and adaptive headlights.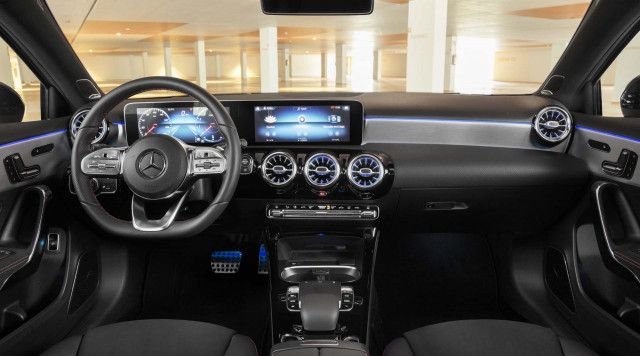 Pricing for the A-Class isn't available yet. However, it shouldn't cost more than the 2018 CLA-Class, which starts at roughly $34,000. The new-to-America A-Class should arrive in late 2018 or early next year.