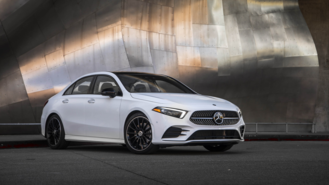 The new 2019 Mercedes-Benz A-Class will take the role of being the most affordable vehicle from the German automaker when it goes on sale later this year. The entry-level A220 sedan will carry a price tag of $33,495, which includes the $995 destination fee, while adding all-wheel drive via Mercedes' 4MATIC system adds an extra $2,000 to the price tag.

When Mercedes first announced that it would be bringing the A-Class in sedan form to the U.S., we were a little confused by how the brand's lineup would look. Compared to the current CLA-Class, the all-new A-Class may not seem like a bargain, as only $600 separates the two models. Smartly, the new CLA-Class is going upstream with more luxury features and a more powerful engine, so when Mercedes does eventually release pricing for that model, we expect the gap to be a little more substantial than $600.

As a quick reminder on the A220, the vehicle features a turbocharged 2.0-liter four-cylinder that makes 188 horsepower. The engine is paired to a 7-speed dual-clutch transmission. Mercedes' new MBUX infotainment system is standard, as is Apple CarPlay, Android Auto, and two 7-inch screens (one for the instrument cluster and another for the touchscreen).

It shouldn't be surprising to hear that Mercedes has priced the A-Class accordingly. The Audi A3 is priced at $33,495, the entry-level BMW 2-Series costs $36,295, the Volvo S60 carries a price tag of $36,795, and the Acura ILX costs $26,945.