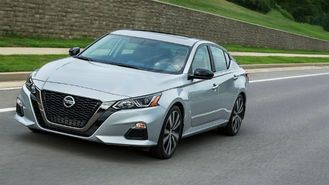 There is a hierarchy in the automotive world, a progression of prestige and preconceived expectations. Conventional thinking would say BMW is superior to Nissan. It's a subjective opinion, but one that relies on a handful of objective assertions. A recent skidpad test by Car and Driver is upending those notions. According to the publication, the Nissan Altima outperformed the BMW 3-Series in the skidpad test. That's a damning headline, but BMW fanboys shouldn't grab the keyboard and run off into the digital battlefield just yet. There are a few caveats.
While the Altima circled the skidpad at 0.93 g compared to the 3-Series' 0.89-g test, there is one difference between the two that could account for the BMW's poor performance — tires. The Altima wore nothing special to the dance, sporting 19-inch all-season Hankook Kinergy GTs. The BMW 3-Series was a tad ill-prepared, wearing Bridgestone Turanza T005 Run-Flat tires. Car and Driver notes the Bridgestone tires are on the lower end of the summer-tire spectrum, believing the Michelin Pilot Sport 4S tires of other 3-Series cars would have performed better.
Car and Driver is quick to explain its skidpad test measures a car's lateral grip and is not indicative of overall handling. The test works by running a vehicle around a 300-foot circle on the edge of traction. However, the test is a good indicator of the tire and chassis capabilities.
The results are shocking when considering them from a consumer standpoint. BMW's legacy is built on sport luxury sedans while Nissan makes affordable, compliant family sedans and vehicles. It'd shock most to discover a Nissan Altima out-cornering a BMW 3-Series. For decades BMW has been the gold-standard of handling and performance. But being at the top has made everyone target the BMW 3-Series as the best-handling sedan to beat.