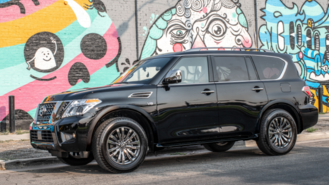 When you're ferrying around eight passengers in a massive SUV, safety is sure to be something that's on your mind. Nissan has announced pricing for the 2019 Armada, and while it's gone up over last year, so has the SUV's list of standard safety features.
After getting a complete redesign for the 2017 model year, we weren't expecting to see many changes for 2019. But Nissan has made the Armada an even more attractive option in the full-size SUV segment by adding adaptive cruise control, automatic emergency braking, forward collision warning, and a rear door alert system, the brand's latest invention, as standard equipment.
The same set of safety features were offered on the 2018 model, but were available as part of the Premium Package on the SL trim and cost an extra $2,200. Moving up to an Armada above the SL trim brought the features as standard.
With the new standard tech features, it shouldn't come as a surprise to see that pricing for the SUV has gone up. The SV trim now starts at $48,185 (including the $1,395 destination fee), which is an increase of $700 from last year. If you want an Armada with four-wheel drive, that's an extra $3,000, up $100 from 2018.
The entry-level trim isn't the only one that's gone up in price. The SL trim costs $52,985, which is $740 more than before. Both the Platinum and Platinum Reserve trims have seen a price increase of $500. The Platinum now costs $61,085, while the range-topping Platinum Reserve has a starting price tag of $64,085.
With the new high-tech safety features, the 2019 Armada is well worth the price increase. And the smaller increases as you go up the ladder make the higher trims more attractive than before, too.