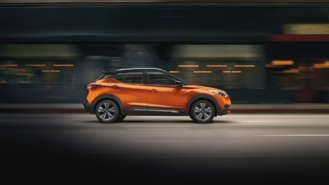 Nissan already has the cheapest car in America with the 2019 Versa, and with official pricing for the 2019 Kicks being released, it looks like the Japanese automaker has the most affordable subcompact SUV, too.
For 2019, the Kicks now costs $19,535 (including the $995 destination fee). The MSRP for the entry-level Kicks S has gone up by $250, while the destination and handling fee has decreased by $50. The price increase, though, hasn't stopped the Kicks from being the cheapest option in the subcompact segment.
Pricing as you move up the Kicks lineup continues to increase for the 2019 model year. The mid-level SV trim now costs $21,245, up $210 from last year, while the range-topping SR is priced at $21,865 – an increase of $230 from 2018.
The Kicks may be more expensive for 2019, but it doesn't get any new features. Nissan, though, is quick to point out that the little SUV comes with automatic emergency braking as standard throughout the entire lineup. Things like blind spot warning and rear cross traffic alert are standard on the SV and SR trims.
| | | | | |
| --- | --- | --- | --- | --- |
| Subcompact SUV | 2019 Nissan Kicks | 2019 Honda HR-V | 2019 Chevrolet Trax | 2018 Jeep Renegade |
| MSRP | $18,540 | $20,520 | $21,300 | $18,750 |
| Destination & Handling | $995 | $995 | $995 | $1,495 |
| Total | $19,535 | $21,515 | $22,295 | $20,245 |
As the chart above reveals, the 2019 Nissan Kicks is the cheapest option in the segment by some margin. But the low cost requires some compromise, as we found the subcompact SUV to have a lackluster cabin and a woefully underpowered powertrain. Oddly enough, power for the Kicks has decreased for 2019. The 1.6-liter four-cylinder now makes 122 horsepower, down 3 hp from last year. That definitely won't help with the issue we had with the vehicle's performance.

The Kicks' low price tag ensures it will continue to stay competitive for the 2019 model year, as will the vehicle's above average list of standard features. But you get what you pay for, and if you're looking for something with some more power and a nicer cabin, it's worth paying a little bit more for one of the Kicks' competitors.