The original Nissan Leaf was way ahead of the electric trend. Unfortunately, that's not the case with the current Leaf, as other electric vehicles, mainly from Tesla and Chevrolet, have EVs that can go longer on a single charge than the Leaf. Nissan has officially revealed its long-range variant of the Leaf, which brings it within spitting distance of the competition.

Major news first, the Leaf Plus has a range of 226 miles. That figure has a lot to do with the new, larger 62-kWh battery pack that's nestled underneath the body. As a reminder, the regular Leaf has a 40-kWh pack and a range of 151 miles. In addition to the larger battery pack, the Leaf Plus' electric motor also gets a minor bump in power, as the EV is rated to have 215 horsepower and 251 pound-feet of torque. Once again, that's more impressive than the standard Leaf, which pumps out 147 hp.

While Nissan has released a lot of information on the new Leaf Plus, it didn't come out with all of the specs when it comes to charging. All the Japanese automaker stated, is that the Leaf Plus will have similar charge times to the regular Leaf, despite the Leaf Plus having a larger battery pack. Nope, it's not magic, Nissan fitted the Plus model with a more powerful charging system.

The Leaf Plus definitely raises the bar when compared to the regular Leaf, but, more importantly, it makes Nissan a legit competitor against the likes of the Chevrolet Bolt, Hyundai Kona Electric, and Tesla Model 3. The Bolt has a range of 238 miles, Kona EV can travel 258 miles on a single charge, and range for the Model 3 ranges from 264 miles to 310 miles.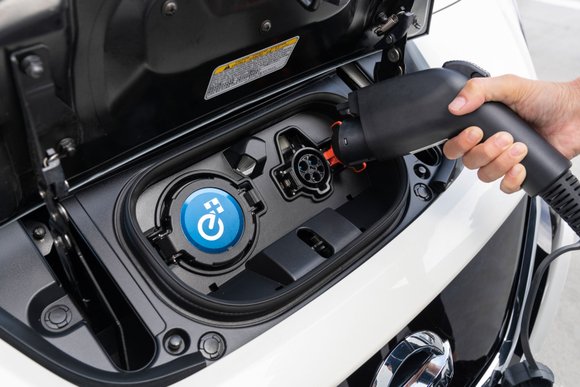 Unlike with the Model 3, consumers can still get the full federal tax credit amount for the Leaf and the Leaf Plus. In fact, Nissan is still a little ways away from getting over the 200,000-unit hump when the tax credit begins to phase out. Buyers looking to buy a Tesla can only get $3,750 when it comes to the federal tax credit, while those wanting a product from Chevrolet have until March 2019 to get the $7,500.

Nissan didn't provide any concrete information on how much the Leaf Plus would cost, but initial order guides suggest that going with the higher-range model will come at a premium of $5,500 over the regular model. Before the tax credit, the regular Leaf costs $30,875 including destination.