Nissan recently previewed modest styling updates coming to the 2019 Maxima. Although the car's official introduction isn't due until next month's LA Auto Show, preliminary order guides show the addition of a new Platinum Reserve model with a special interior option at the top of the range.
A variant of the Platinum trim, the car will get unique 19-inch aluminum-alloy wheels, heated rear seats, a charcoal headliner, various two-tone touches and diamond-quilted semi-aniline leather seats featuring Rakuda Tan, a deep caramel color thus far only offered elsewhere in the GT-R.
Although no one is likely to mistake the Maxima for a GT-R, the option could add some luster to the car's most premium configuration. In the GT-R, the color is only available as part of the nearly $4,300 Premium Interior Package, resulting in an MSRP of over $116,000 including destination.
Here's an example of what it looks like.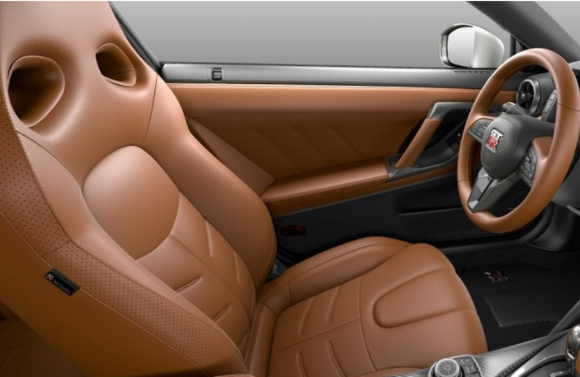 Nissan already offers a Platinum Reserve version of the Titan and Armada with a healthy dose of black chrome throughout. However, neither offers a Rakuda Tan interior option. We don't have pricing yet for the Maxima, but see indications the variant could add around $1,200 to the price of the Platinum trim.
2018 Maximas range from $34,315 to as much as $41,985. For comparison, the all-new Altima ranges from $24,645 to $36,645. The Altima features an optional 2.0-liter turbocharged engine rated at 248 hp with 273 lb-ft of torque, compared to the current Maxima's 3.5-liter V6 with 300 hp and 261 lb-ft.
Now that the new Altima has arrived, Nissan appears to be hoping for minor updates to help boost the Maxima's appeal. Along with new exterior features like LED headlamps, the car will offer Nissan Safety Shield 360 in select trims with important safety features like auto emergency braking, blind spot monitoring and more.
Like most large cars, Maxima sales have struggled as consumers flock to crossovers. Through September, Nissan sold just 2,439 Maximas, 71% fewer cars compared to the same period last year. Year-to-date, the brand reported a 36% drop in sales for its largest sedan.