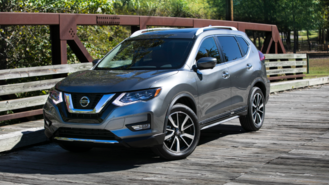 With the compact SUV segment showing no signs of slowing down, Nissan is looking to retain its spot toward the top of the charts with the 2019 Rogue. The Japanese automaker recently announced pricing for the SUV, and despite the addition of new technology features, pricing hasn't gone up – at least for the base S trim.
For 2019, the base S trim costs $25,795, which includes the $995 destination fee. That's the same price as last year's model. Unlike last year, the entry-level S trim can be fitted with lane departure warning, intelligent lane intervention, automatic emergency braking with pedestrian detection, and high beam assist as options. Just like last year, adding all-wheel drive is an extra $1,350.
Moving up to the SV trim costs $27,215, which is a modest increase of $200 over the 2018 model. The SV trim is also the most affordable way to get Nissan's latest suite of safety features, Nissan Safety Shield 360, as standard. The suite brings automatic emergency braking with pedestrian detection, blind-spot monitoring, rear cross-traffic alert, lane departure warning, high beam assist, and rear automatic emergency braking. The SV trim is also the first one in the lineup that can be fitted with the brand's ProPilot Assist system as an option.
The range-topping SL is priced at $32,385, an increase of $210 from last year. It also gets Nissan Safety Shield 360 as standard, as well as ProPilot Assist.
Changes have also been made to the 2019 Rogue Hybrid. For 2019, the Rogue Hybrid SV costs $28,595, which is $580 more experience than last year. Just like on the regular Rogue, adding all-wheel drive to the hybrid variant costs $1,350. Opting to go with the Rogue Hybrid SL costs $32,535, which shockingly, is $840 less than last year. The 2018 Rogue SL Hybrid started at $33,375.
The 2019 Nissan Rogue is already at dealerships at the time of writing. With the slight increase in prices and extra safety features, we'd say the new model is a much better value proposition than last year.