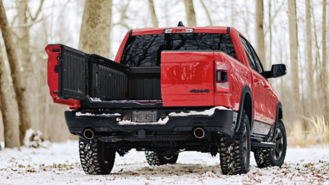 Ahead of the Chicago Auto Show, Ram revealed a new tailgate option for the 1500 pickup truck—a multifunction tailgate that's entirely different from the MultiPro Tailgate offered on the GMC Sierra 1500. Ram uses a 60-40 split, swing-away design that mimics barn-style doors. At first glance, the design seems odd; however, upon further inspection, it's actually quite genius.
The multifunction tailgate not only operates as a fully dampened, drop-down tailgate that's been used on pickups for decades, it also works in an independent, swing-away fashion thanks to dual-hinged tailgate doors.
The multifunction tailgate has four configurations: open flat, open left door only, open right door only, and open both doors with each door opening 88 degrees. The design allows for easier bed access without the need of an integrated step, allowing owners to use the bumper as a step. It also makes loading cargo with a forklift easier, too.
The other benefit of the Ram's multifunction tailgate design is that it won't collide with a trailer hitch, unlike the Sierra's MultiPro Tailgate. The MultiPro Tailgate, which warns users of the trailer hitch issues, offers six positions that include a standing work station, load-stop solutions, an integrated step, and more. Ford offers an integrated step and handle in its tailgates.
Ram's multifunction tailgate will arrive at dealerships in the second quarter of 2019 and will be available across all seven Ram 1500 models for $995. That's a small price to pay for added functionality, especially compared to the GMC Sierra, which limits the MultiPro Tailgate to three trim levels—the cheapest starting at $49,095 (price excludes fees and destination charges).