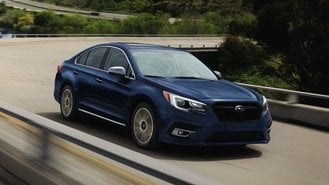 For 2019, both the Subaru Outback and Legacy will see a slight price increase while offering more features than ever before as standard equipment.
The entry-level 2019 Subaru Legacy 2.5i sees a $375 increase over the 2018 model, starting at $23,430 (all prices include the $885 destination charge). The base 2019 Subaru Outback sees its price increase by $510 over the outgoing model to $27,320. Both see a price increase across almost all available trims. However, prices have dropped slightly on the Legacy and Outback 3.6R Limited.
While the price does increase, Subaru is offering more technology – specifically EyeSight, their suite of advanced safety systems. The package adds a host of driver safety aids that include lane departure warning, lane keeping assist, adaptive cruise control, and automatic emergency braking. The 2019 Legacy 2.5i Sport receives blind-spot monitoring and rear cross-traffic alert both as standard features in addition to EyeSight.
That's not all, though. Across both models and all trims, Subarus adds the five-inch LCD instrument panel display, which is an excellent interior feature to have. Legacy and Outback 2.5i trims receive more lighting and front USB ports for added convenience. An auto-dimming mirror is added to the premium and Limited trims for both models.
The updated 2019 Subaru Legacy and Outback – with their new standard features – are arriving at dealerships this summer.