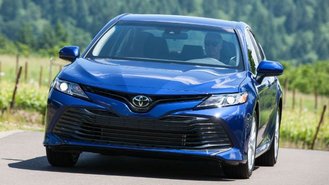 For the longest time, Toyota has avoided adding smartphone integration into its infotainment systems. The Japanese automaker initially cited security concerns for the lack of the compatibility with its vehicles. That changed with the 2019 Toyota Avalon, which was the first model in North America to offer consumers with Apple CarPlay compatibility. From a few order guides we found, it looks like Toyota will spread the smartphone system to some other vehicles.
According to the order guides, the 2019 Toyota Camry and Sienna will get Apple CarPlay support and Amazon Alexa integration, too. Sorry Android users, it doesn't look like Android Auto will be added to these vehicles. While unfortunate, it's not surprising, since the new Avalon doesn't have Android Auto either.
Both Apple CarPlay and Amazon Alexa are appealing features that consumers want to have in their new vehicles. Apple CarPlay, as a lot of consumers know by now, gives iPhone owners the ability to control a group of applications and smartphone functions through the vehicle's infotainment display.
In addition to Apple CarPlay, the new Camry and Sienna will get Amazon Alexa integration, which will allow consumers to use the personal assistant to order food, hear the news, check the weather, ask for directions, control smart home devices, and more. Toyota calls Amazon Alexa integration "Toyota+Alexa." In order to use Amazon Alexa, consumers need to have Android 5.0 and higher. The order guide claims that iPhone integration for Amazon Alexa will arrive in early 2019.
For Toyota owners that aren't interested in using Amazon Alexa or Apple CarPlay, the automaker recently came out with Entune 3.0. The new infotainment system gives users access to advanced voice recognition, Siri Eyes Free, music streaming, as well as access to apps, which include Facebook, Pandora, Yelp, iHeartRadio, turn-by-turn navigation through Scout GPS Link, and more. Entune 3.0 also comes with an embedded modem that provides in-cabin WiFi.
While Entune 3.0 is one of the better infotainment systems on the road, the majority of iPhone users will still prefer to use Apple CarPlay. The system is more familiar and simpler to use.