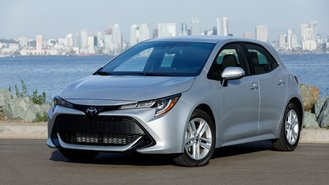 The 2019 Toyota Corolla Hatchback is proof the Japanese brand that has become synonymous for reliable commuter cars has a lighter side – one that includes making vehicles that are fun to drive. While being enjoyable to drive and affordable are two things that usually don't go together, it looks like the Corolla Hatchback won't be a sporty vehicle that breaks the bank.
Toyota has officially announced pricing for the hatchback, which will start at $20,910 when it hits dealerships this summer. Opting for a fully-loaded hatchback costs $27,420. Both prices include the $920 destination fee. While that's affordable in terms of modern sporty hatchbacks, it's $1,140 more than the Corolla iM that it replaces, which started at $19,770. The new Corolla Hatchback, though, has more features, power, and better fuel economy figures.
The Corolla Hatchback comes with a six-speed manual transmission as standard. Adding the optional continuously variable transmission (CVT) raises the hatchback's starting price to $22,010. The extra $1,100 for the automatic transmission may seem like a pricey option, but it results in the most fuel-efficient model.
With the available CVT, the Corolla Hatchback is rated to get 32 miles per gallon city, 42 mpg highway, and 36 combined by the EPA. Those figures drop substantially to 28 mpg city, 37 highway, and 31 combined with the six-speed manual.
Looking at the competition, it appears Toyota has priced the Corolla Hatchback accordingly. The Subaru Impreza 2.0i five-door is cheaper than the Corolla Hatchback with a starting price tag of $19,855. Toyota's offering is more affordable than the Mazda3 five-door, Honda Civic Hatchback, Ford Focus hatch, and Volkswagen Golf.