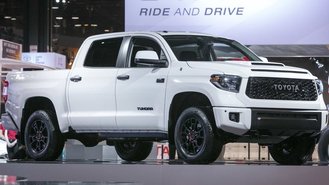 The Toyota Tundra TRD Pro is back for 2019 after a 1-year hiatus, offering a number of enhancements meant to bolster its off-road credentials. However, it's also getting a substantial price hike.
Toyota's latest pricing sheets show the 2019 TRD Pro CrewMax will start at $51,275 including destination, $3,870 more than it did in 2017, the most recent year the Pro version was offered. At the time, the style started at $47,405.
Interestingly, a Double Cab version of the Pro isn't listed even though it was offered previously. A spokesperson for Toyota confirmed for us today that the Pro will only be sold as a CrewMax model for 2019.
At $51,275, the Pro starts awfully close to the 2018 Ford F-150 Raptor, which has an MSRP of $52,170 for the SuperCab and $55,155 for the SuperCrew. The 2019 Raptor is getting a beefier setup, but pricing hasn't been announced.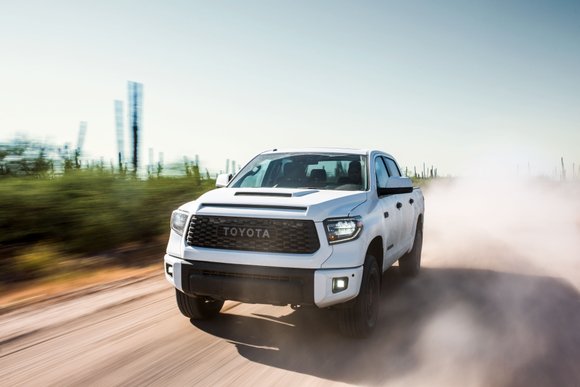 On paper, the difference between a Pro and least-expensive Raptor will be just $895. However, this isn't exactly a fair comparison since the cab sizes are different. There's still $3,880 separating the crew cabs, which is pretty sizable.
Having said that, the Raptor could be an appealing upgrade for some. Just don't expect much of a discount, if any. Raptors and Toyota's TRD models are generally excluded from offers and can command prices close to sticker.
It's also worth noting that these won't be the most expensive versions of these trucks. The 2019 Tundra Platinum CrewMax 4x4 starts at $51,825, while the 2018 Ford F-150 Limited is priced from $66,280.
As we reported last week, the 2019 4Runner TRD Pro is seeing its base price climb in a similar manner by over $3,300. Toyota hasn't released its configurator yet for the 2019 Tundra, but we're seeing trucks arriving now at dealers.
Editor's Note: A Toyota spokesperson has confirmed the TRD Pro will only be offered as a CrewMax trim. We've updated the article accordingly.