The 2019 Volkswagen Arteon continues its elongated journey to eventually go on sale later this spring, as the model now has official fuel economy ratings from the EPA. We already knew what the handsome sedan with the hatchback rear end would look like, and what performance would be, but fuel economy was a mystery. Unfortunately, the figures aren't very good.

The EPA rates the Arteon with front-wheel drive and the 2.0-liter four-cylinder engine to get up to 22 mpg in the city, 31 mpg on the highway, and 25 mpg combined. Adding all-wheel drive into the mix lowers the figures by two in the combined and city environments, while the highway figure dips by four.

Those figures trail behind other liftback sedans in the luxury segment.
The Audi A5 Sportback, which has quattro all-wheel drive as standard, is rated to get up to 27 mpg combined. The BMW 430i Gran Coupe can also get up to 27 mpg combined when properly equipped. Kia's stylish and sporty Stinger manages to be on par with the Arteon, getting up to 25 mpg combined in its most fuel-efficient layout.

There is a reason for the Arteon's subpar fuel economy numbers: VW's power figure. The Arteon's turbocharged 2.0-liter four-cylinder produces 268 hp, which is more than any of the aforementioned competitors. A similar engine that's found in the A5 Sportback get's close with a rating of 252 hp.

Volkswagen has had a hard time bringing the Arteon to market, as the sedan has been plagued by delays.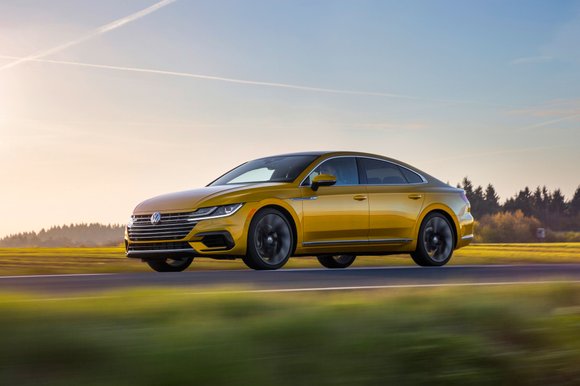 Originally, the model was supposed to go on sale in the U.S. at the end of last year. Last September, the delay was due to Europe's requirement for all registered vehicles to meet the new Worldwide Harmonized Light Vehicle Test Procedure (WLTP) – a new emissions test that replaced the New European Driving Cycle (NEDC).

With an official fuel economy rating of, the Arteon finally takes a step closer to officially going on sale, but with American's love of SUVs continuing to grow, it might be a little too late.