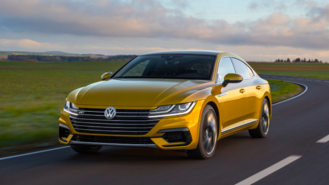 After multiple delays, the 2019 Volkswagen Arteon looks like it's finally on track for its U.S. debut later this year. Fuel economy figures were announced earlier this month (if you happen to purchase an Arteon, you're looking at 25 mpg combined), and now, we know how much the swoopy liftback will cost. Just like the Arteon's fuel economy figures, the pricing isn't as good as we were hoping for.

When the Arteon goes on sale, pricing will start at $36,840, which includes the $995 destination fee. If you want all-wheel drive, that will cost an extra $1,800. Shoot to the top of the range, and the Arteon tops out at $45,940.

The Arteon SE comes with things like leatherette upholstery, heated front seats, 12-way power front seats, three-zone automatic climate control, an auto-dimming rearview mirror, an 8-inch touchscreen, Apple CarPlay and Android Auto, as well as eight audio speakers as standard. Forward collision warning, autonomous emergency braking, and rear traffic alert are also included.

If you want Volkswagen's slick Volkswagen Digital Cockpit system, which includes an additional 12.3-inch display in the instrument cluster, you'll have to move up to the mid-level SEL. That trim costs $42,790.

Notable goodies found on the range-topping Arteon SEL Premium include all-wheel drive, 19-inch wheels, ventilated front seats, a massaging driver's seat, heated rear seats, tri-color ambient lighting, a 12- speaker audio system, and a bunch of more safety features.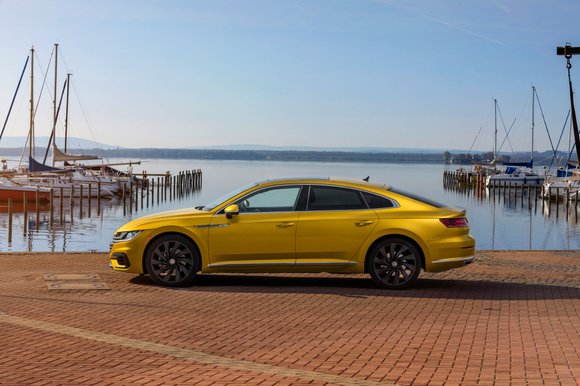 Power for the entire Arteon lineup comes from a turbocharged 2.0-liter four-cylinder that makes 268 hp and 258 lb-ft of torque. The motor makes the Arteon one of the more powerful liftbacks on the market, but the engine's rating of 25 mpg combined makes it one of the least efficient.

Compared to other available liftbacks, the Arteon sits smack dab in the middle. The Kia Stinger, which is rear-wheel drive, starts at $33,985 – roughly $3,000 less than the Arteon. The Stinger is also available with an available 3.3-liter twin-turbo V6 that makes 365 hp. Audi's A5 Sportback and BMW's 4-Series Gran Coupe are more expensive. Pricing for the A5 Sportback starts at $45,195, while the 4-Series Gran Coupe carries a price tag of $45,595.

Pricey and stylish, the Arteon should be appealing to consumers that don't want a traditional sedan, but want a coupe-like design with some extra versatility thanks to the liftback rear end. The Arteon is aimed at a more upscale part of the market, as Volkswagen's most expensive sedan at the moment is the Passat, which costs $26,190. In fact, the only car that VW sells that comes close to sharing similar pricing as the Arteon is the Golf R that starts at $41,290.