Here's something that took us by surprise. For the 2019 model year, the Volkswagen Golf gets a smaller engine from one of its stablemates to improve fuel economy. According to The Car Connection, the move to downsize from the current 1.8-liter four-cylinder to a 1.4-liter unit is all about improving fuel-economy figures for the front-wheel-drive variants of the compact car.
The outlet states front-wheel-drive models feature a turbocharged 1.4-liter four-cylinder engine that produces 147 horsepower and 184 pound-feet of torque. If those figures sound familiar, it's because it's the same powerplant from the 2019 Jetta. The new engine also brings new gearboxes: a six-speed manual transmission replaces the old five-speed unit and an available eight-speed automatic has two more gears than last year's six-speed automatic transmission.
Golf models that have all-wheel drive continue to be powered by the old turbocharged 1.8-liter four-cylinder engine. That motor is rated to make 170 hp and 199 lb-ft of torque. While VW hasn't released fuel economy figures for the 2019 Golf with the 1.4-liter motor, the old 1.8-liter unit was rated to get up to 25 miles per gallon city, 34 mpg highway, and 29 combined. Even though its bigger, the Jetta is rated to get up to 30/40/34 mpg (city/highway/combined), so the small engine should help boost fuel economy for the Golf.
In addition to getting a smaller engine, The Car Connection reports that Volkswagen has also made a few more changes to the 2019 Golf. The S trim now comes with automatic emergency braking and blind-spot monitoring as standard. Moving up to the SE trim brings automatic high-beam headlights, adaptive cruise control, and active lane control as standard.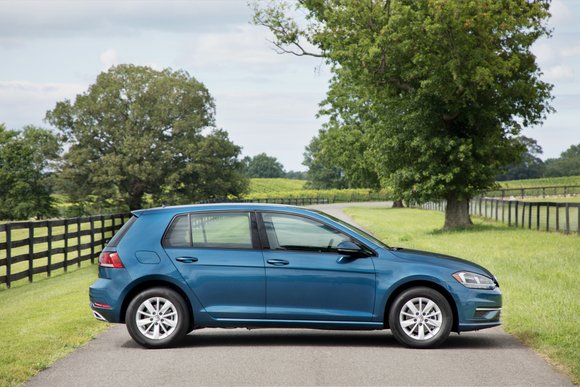 The SEL trim is no longer offered for the Golf SportWagen, while VW has made the base S trim more attractive by offering automatic emergency braking and blind-spot monitoring as options. The SportWagen SE gets more standard features, including active lane control, LED headlights, and adaptive cruise control.
Changes have been made to the Golf Alltrack, as well, as the S trim gets blind-spot monitoring and automatic emergency braking as standard. The Alltrack SE gets LED headlights as an option, while the Alltrack SEL trim gets a six-speed manual as an option – enthusiasts should enjoy this.
These are changes that we didn't see coming and they're most likely being done in an attempt to keep the Golf, which accounts for a large portion of the automaker's sales, competitive.
Pictured: 2018 Golf