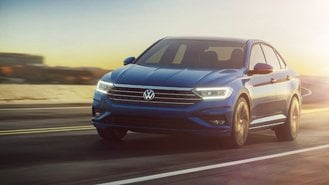 Automakers are moving towards electrified vehicles as a way to meet emission and fuel economy requirements. But some, like Volkswagen, have found a way to eek out better fuel economy figures from gas-powered vehicles, despite making them larger and packing them with more features. Green Car Reports, CarsDirect's sister site, took a look at how VW managed to do it with the '19 Jetta.
As a quick refresher, the 2018 Jetta with the 1.4-liter turbocharged four-cylinder engine and five-speed manual was rated by the EPA to get 28 mpg in the city and 40 mpg on the highway. Going with the six-speed automatic brought those figures down to 28 mpg in the city and 38 mpg on the highway.
The 2019 model is rated to get 30 mpg in the city and 40 mpg on the highway. Those figures don't represent a staggering improvement, but the sedan is still powered by a 1.4-liter turbocharged four-cylinder engine. And it's larger and more feature-heavy than the previous model.
According to GCR, the improved fuel economy comes down to reducing the sedan's aerodynamic drag. The new styling has a drag coefficient of just 0.27, which VW claims is class-leading.
The front bumper creates an air curtain that helps direct air around the front wheels. Flat underbody panels help reduce the amount of turbulent air passing beneath the car, and at the back, there's a compact spoiler that helps the Jetta slip through the air. In addition to improving the exterior design, VW also fitted the sedan with active aero pieces, including the grille shutters.
Mechanically, the eight-speed automatic transmission has a wider range of ratios than the six-speed automatic gearbox in the previous model. This helps the engine stay in a more efficient operating range when cruising on the highway.
Other mechanical additions to the Jetta that help improve its fuel efficiency include a clutch-driven air conditioner and a standard start-stop system. VW also recommends a less viscous grade of oil for the engine. Finally, low-rolling-resistance tires will, according to VW, maintain the sedan's handling and comfortable road manners while reducing road drag by roughly 25 percent.
The 2019 Jetta will go on sale in the second quarter of 2018 with the automaker's new six-year/72,000-mile bumper-to-bumper warranty.