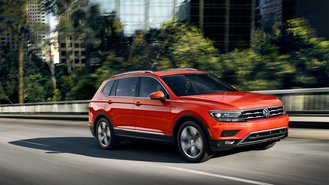 After Volkswagen rolled out a fully redesigned Tiguan in 2018, we're sure the brand wasn't too happy to see it fail to earn one of the Insurance Institute for Highway Safety's (IIHS) awards when the institute changed the requirements for the 2018 model year. The 2019 Tiguan also failed to earn an award from the IIHS, until recently when the automaker updated the headlights on the SUV.
A few Tiguan models built after June are equipped with curve-adaptive LED headlights that have high-beam assist as standard. These headlights aren't new, as earlier models came with the same set of headlights, but VW updated them. The new headlights earned a rating of Good, which was enough for the Tiguan to nab a Top Safety Pick+ rating. Previously, the same headlights earned a Marginal rating. The Tiguan's base halogen headlights earn a rating of Poor.
The Tiguan met all of the other requirements to be named a Top Safety Pick+ vehicle before the new headlights. The SUV earned a rating of Good in all six of the IIHS' crash tests and had a front crash prevention system (optional) that earned a Superior rating.
The silver lining to the Tiguan's top safety rating is that it's only for SEL Premium trims. The most affordable trim to meet the requirements for a Top Safety Pick+ rating is the SEL Premium with 4Motion that starts at $38,190 including destination. That trim costs quite a bit more money than a base Tiguan S, which costs $25,290.
With the new safety rating, the Tiguan is only the second vehicle in VW's lineup to gain this award. The second vehicle is the 2019 Volkswagen Golf GTI. The IIHS classifies the Tiguan as a midsize SUV, which is full of options with Top Safety Pick+ vehicles. The Hyundai Palisade, Hyundai Santa Fe, Kia Sorento, Mazda CX-9, and Subaru Ascent match the Tiguan's safety rating. Top Safety Pick SUVs include the Honda Passport, Honda Pilot, Hyundai Santa Fe XL, Jeep Cherokee, Kia Telluride, Nissan Pathfinder, and Toyota Highlander.